Police asking for any information no matter how small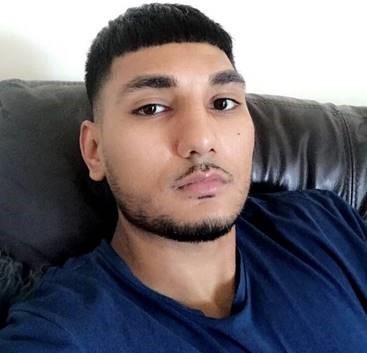 Mohammed Shah Subhani
The police continue to investigate the disappearance and murder of Mohammed Shah Subhani, known as Shah.
Police were called on Tuesday, 7th May 2019 after the 27-year-old failed to return to his home in Hounslow.
His family reported him as missing shortly before midnight, having seen him last at 12:30hrs that same day.
An extensive police enquiry was launched to find Shah and there have been numerous appeals for the public's help.
Shah's car was recovered with ballistic damage on Wednesday, 19 June and this, taken with the circumstances of his disappearance, means police are now treating this as a murder inquiry.
Detective Chief Inspector Noel McHugh is leading the investigation. He said: "The investigation is continuing at pace.
"In addition to the four arrests that have been made, we have recently interviewed a man under caution.
"This man, aged 28, is currently serving time in a London prison for an unrelated matter.
"It remains my firm belief that a small group knew what Shah's movements were on the day he disappeared, and we strongly believe that those in 'the know' are those who were acquainted with him."
Detectives will also return to a commercial unit in Hounslow for a third time to carry out further searches.
DCI McHugh said: "My team are totally committed to getting justice for Shah's family. His partner has been left in a horrid position, she will give birth to Shah's baby on 31 August, just 10 days away. What should be a joyous occasion is overshadowed by so many unanswered questions."

Scans for Shah's child were discovered in his white Audi Q3 [genuine VRM LC67 CXS], which was recovered on false plates (L88 EJF) in Camden on Wednesday, 19 June.
DCI McHugh said: "We want to speak to anyone who may have seen this car or had any interaction with it. We will look sympathetically on anyone who comes forward with information about how this came to be on false plates.
"It's astonishing that a man can go missing for 107 days and there be such a wall of silence. To me, this indicates those involved in his disappearance are a very close-knit group and that whatever happened to him was carefully planned.
"However I am confident that we are getting closer to the fragment of information we need that will bring Shah's family the answers they deserve."
A substantial reward of £20,000 remains on offer for information that leads to the arrest and conviction of those involved.
Four men have been arrested in connection with the investigation.
A 23-year-old-man was arrested on Tuesday, 2nd July 2019 on suspicion of perverting the course of justice, he has been released under investigation.
Two men aged 22 and 25 were arrested on Monday, 8th July 2019 on suspicion of murder, kidnap/abduction and perverting the course of justice. The first remains on bail while the second was released under investigation.
A 20-year-old man was arrested on suspicion of conspiracy to commit murder, kidnap and perverting the course of justice on Wednesday, 31 July 2019. He was subsequently released under investigation pending further enquiries.
Anyone with information, no matter how small, should contact police on 101, quoting Operation Rockton.
If you don't want to give your name, call Crimestoppers on 0800 555 111 or online at crimestoppers-uk.org.
August 23, 2019