Mary Macleod and Helen Grant meet local sports trainees, apprentices and coaches
The Sports Minister, Helen Grant MP, accompanied local MP Mary Macleod this week to meet local sports trainees, apprentices and coaches working with Brentford Football Club Community Sports Trust.
The first stop was to Goals Osterley where the CEO of the Community Sports Trust, Lee Doyle, gave an overview of the work they do. It was easy for the Minister to appreciate the impact they have, with hundreds of children gathered at Goals to compete in the Futsal npower Kids Cup (a 5-a-side national junior tournament). Two of the Futsal trainees helping to organise the tournament, Alfie Hipwell and Louis Dailey, told the Minister that the experience has boosted their confidence and will add something extra to their CVs when they are looking for work.
Two of the Trust's apprentices, Amber Lloyd and Sian Marshman, also explained how much they had gained from their apprenticeship both academically and in the workplace and how it has given them fantastic opportunities in their ongoing work with the Trust.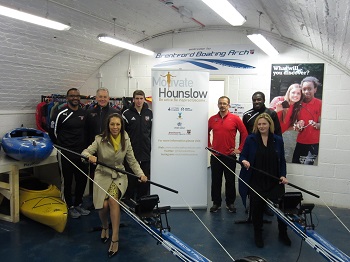 Stop two on the tour took the group to the Brentford Boating Arch where they saw how the facility has been transformed and even got a chance to try out the rowing machines – under the watchful guidance of two of the Motivate Hounslow coaches. Motivate Hounslow is a programme to encourage people aged 14-25 to develop a regular sporting habit, something that often declines when people leave school. Brentford FC CST have teamed up with the Mo Farah Foundation and Sport Impact to deliver the programme.
Finally, the group also took the opportunity to visit the site for the new Brentford FC stadium.
Mary commented: "We could really see the value that Brentford FC Community Sports Trust delivers today, just by looking at the smiling faces of the youngsters competing for their schools in the npower Kids Cup. The Trust is also helping to train coaches and provide some excellent apprenticeships and it was great to hear from both trainees and former apprentices today.
I am a strong supporter of apprentices in any workplace and I hope that the trust is able to continue to grow their numbers of apprentices in the future."
Helen Grant commented: "I was delighted to accompany Mary Macleod MP today to see some of the great work that Brentford Football Club Community Sports Trust is doing. Mary is a vocal supporter of the Trust and it's easy to see why. Now in its 27th year, the Sports Trust offers a wide range of both sporting and educational opportunities to thousands of youngsters each year.
"Sport has a unique power to transform lives, beyond the immediate personal health benefits it delivers. I enjoyed speaking to the young apprentices and trainees working with the Sports Trust and hearing how their involvement has developed their ambition, drive and leadership skills.
"With Brentford FC riding high in the Championship right now, it was great to see how much the club puts back into the local community – and to hear about the exciting plans for the next chapter in the club's history when the new stadium opens in Lionel Road."
January 15, 2015