Local MP joins Great West Quarter residentsí fight to move bus stop
Local MP Mary Macleod recently held a public meeting at Great West Quarter in Brentford in response to residents' growing concerns about the 235 bus stop. In recent weeks, a 500 person petition has been handed to Hounslow Council detailing residents' concerns about the safety of the bus stop and the disturbance to the surrounding apartments. Residents are asking for the bus stop, which currently stands on the plaza between residential blocks, to be moved to nearby Ealing Road.

At the meeting, Mary also heard numerous other grievances from residents about A2Dominion's management of Great West Quarter, and concerns people had for drug dealing taking place in the area.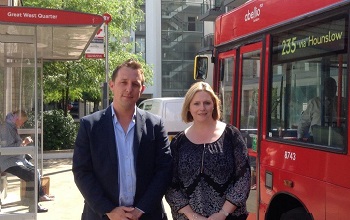 Mary has been supporting the residents of Great West Quarter for some time, having held a meeting in Parliament with A2Dominion and Barratt Homes earlier this year.

Mary commented: "The residents of Great West Quarter have raised an important issue about the safety of the bus stop which appears more like a bus depot in reality. Following the residents meeting, I have asked the Mayor of London, and Transport for London, as well Hounslow Council to take their valid concerns on board and to start the process of moving the bus depot. I will also ask the police to immediately look into any drug dealing that may be taking place. It is crucial that people feel safe in their homes and the surrounding area."​
August 25, 2014