A fabulous place with excellent services
On Thursday 11th October, local MP Mary Macleod visited The Mulberry Centre, an independent charity dedicated to helping those whose lives have been affected by cancer, including carers and bereaved families. The Centre is based next to West Middlesex University Hospital in Isleworth.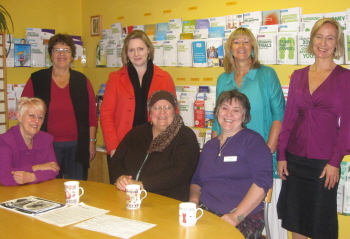 Mary with Cllr Barbara Reid, Cllr Pam Fisher, patients and staff at The Mulberry Centre.
Mary met staff, trustees, patients and families who have all benefitted from the excellent work the Centre does. She said:
"I was bowled over by the professionalism and dedication of all the people working here. Along with the trustees and supporters of The Mulberry Centre, they have built a fabulous place with excellent services to help those suffering from cancer or those caring for people with cancer". The Mulberry Centre is a place we can be proud of in West London."
The Mulberry Centre is currently helping over 750 people affected by cancer. It does so without any restrictions on age or postcode, but the Centre and the services it provides costs over £680 a day to maintain. Mary added:
"Cancer strikes one in three of the population. It is the thing which people fear most. I am delighted to endorse the work of The Mulberry Centre and its staff and would like to urge anyone who can to help support it."
November 8, 2012