Mary Macleod starts initiative to get young people into work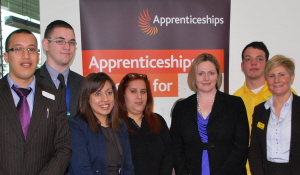 Mary Macleod MP meets with local young people who have taken advantage of the scheme
Participate
Sign up for our free newsletter

Comment on this story on the
Local MP Mary Macleod has marked National Apprenticeship Week by encouraging local businesses to take on more apprentices.
Mary invited local businesses and apprentices to an Apprenticeship Forum in Chiswick to discuss their experiences and encourage other organisations to consider an apprenticeship scheme. "Locally apprenticeships have doubled in the last year, but we can still go further," she commented. " We have a fantastic cross section of businesses in this area that would benefit from apprentices who can make a real difference and add value to their business. This can also transform the lives of the apprentices themselves, giving them the opportunity to build skills and experience for the future."
The aim of the National Apprenticeship Service (NAS) is to encourage young people into work and to gain qualifications, whilst adding tangible value to businesses of all sizes based in the local area.
Representatives from UK and international companies, including BAA, Starbucks and Otis, gathered at Chiswick Park Enjoy-Work's HQ to hear how apprenticeships work and the commercial benefits that they offer.
Harminder Matharu from the NAS gave an insight into the scheme and the level of government funding available.
An open panel gave the audience an opportunity to hear first hand experiences of variously sized companies and their apprentices, with BAA, Ixion and Enjoy-Work representatives talking about the success of their apprenticeship schemes.
Adam Sage from West Thames College highlighted the wealth of young talent on offer in West London that can be developed through bespoke apprenticeship schemes.
Kay Chaston, CEO of Enjoy-Work commented: "At Enjoy-Work we are proud to support the local community, and over the last three years have enhanced our wider education programme with a landscape apprenticeship scheme with participants going on to secure permanent employment.
Following the success of this, we launched a four year engineering apprenticeship scheme for pupils from Chiswick Community School, starting in September. We will be looking forward to seeing the effect of today's event; it would be positive to see more locally-based businesses harnessing the power of apprentices and reaping the commercial benefits."
February 9, 2012