MP Mary Macleod visits local residents in Isleworth following flooding
Following the flooding of Thursday 12th August in London Road, Isleworth – caused by a burst water main – residents of 65 nearby homes have been temporarily re-housed at a local hotel. 25 general needs properties were affected, as well as 40 sheltered flats at Fenn House.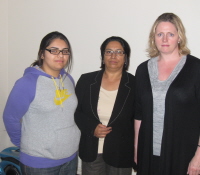 Mary Macleod, Brentford's local MP, visited the London Road site and met with Thames Water and local residents, to find out how they were coping with the devastating water damage. She also then visited displaced residents from Fenn House this weekend, and spoke to them in their temporary accommodation, offering them help and support.
Mary Macleod MP said, "It was good to meet local residents who have had a very difficult few weeks as a result of the water damage to their homes. It was really useful to hear first-hand about the difficult situation in which they find themselves. I am working with Thames Water and Hounslow Homes to make sure we support residents as much as possible during this distressing time."
August 24, 2010