Weekly Sunday market from May 12 in Market Place
On Sunday 12 May 2013, a weekly market will return to Market Place in Brentford, West London. Focusing on high quality food the market will offer residents an alternative to the supermarket and a chance to purchase locally sourced, affordable produce. The market also aims to provide Brentford with a much needed community space where people can meet for a coffee or share some street food.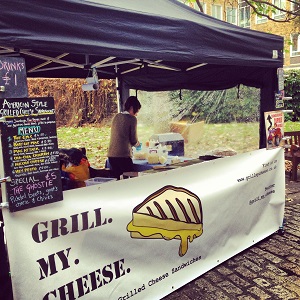 The brain child of Brentford High Street Steering Group (BHSSG), the market will run on a not-for-profit basis offering local businesses, traders and community groups' affordable pitches. The market builds on the success of events hosted in Brentford last year for the Jubilee and Olympic Torch Relay, and the specialist French and Italian food markets.
Jo Lavery, Trustee of BHSSG, said: "We've seen how markets, especially food markets, can revitalise high streets. We have the backing of Hounslow Council, local councilors, our MP and most importantly local residents, who are really excited about a weekly market in the heart of the town centre."
Rosie Boycott, chair of the London Food Board said, "I am delighted that this market is returning to Brentford. As with so many of our High Streets, Brentford no longer has a butcher, fishmonger or green grocer and I think it is vital that Londoners have access to good, affordable, high quality food. Brentford market will also provide a valuable space for people to get together, to meet each other and support community projects and local businesses."
Cllr Steve Curran (Syon Ward Councillor) said: "I am delighted that this new exciting community project is coming to Brentford High street, it will bring extra life and vitality to the high street. Brentford is a wonderful place to live and work in and this project will only add to its appeal, I am most grateful for all of the hard work all those involved have put in to make it happen, I for one will certainly be shopping there."
Pauline Oliver, owner of MSO Boatyard, Brentford, and local resident, added:
"A weekly food market is just what Brentford needs. I visit the one in Chiswick and it has a great community spirit. I think the people of Brentford will really get behind it. When the French market was on here it was great to see so many locals out and about, the High Street had a great atmosphere."
What the Brentford Market will offer
Brentford Market aims to provide everything shoppers need for their weekly food shop. The market will be made up of 15 stalls to include:
Meat and poultry supplier
Local fruit and veg
Fish
Bread
Herbs and plants
Cheese and dairy
Coffee and tea
Pies & snacks
Deli
Local producer
Street food x 3
Community organisations/ micro-enterprises stalls
April 17, 2013