Over £1400 raised with the help of a fabulous cake
Brentford Dock Residents' Association put together a fabulous Coffee Morning as part of the Macmillan Cancer Support "World's Biggest Coffee Morning".
An incredible bespoke cake was donated by some Brentford Dock Residents. Designed by brilliant new Brentford business Victoria's Creative Cakes, this formed the centrepiece of the Coffee Morning table. Resident Leigh Stopps also produced some amazing cup cakes and very creative ice cream cones, which went down a real treat when accompanied by the delicious coffee.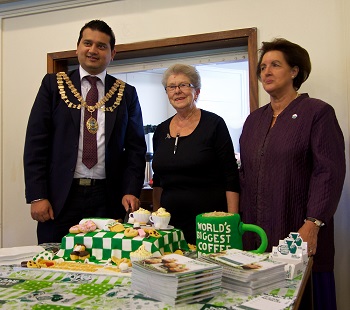 The Mayor of Hounslow, Cllr Sachin Gupta, attended the Morning (pictured above with Pam Richardson and Jennifer Corbin, President of BDRA) and cut the cake. Also in attendance were MP Mary Macleod, Councillors Ruth Cadbury, Matt Harmer and Steve Curran, to name but a few.
There were Raffle Prizes galore, generously donated by local Brentford Businesses including Brentford Chamber of Commerce, Holiday Inn Brentford Lock, Michael Richards The Naked Grain and many others.
A grand total of over £1,400 was raised, thanks to the tireless efforts of the marvellous Ladies and Gentlemen of the BDRA. This money will go towards paying for hours of Macmillan time, helping to make sure that no one faces cancer alone.
BDRA's Annual Fundraiser is one of the most successful of the "World's Biggest Coffee Mornings" and a dedicated Macmillan Team and photographer were on hand to make sure the spirit of the coffee morning was captured for all to see.
A huge thank you to EVERYONE who supported the Macmillan Coffee Morning – by supplying raffle prizes, making donations and buying and selling raffle tickets and helping out on the morning itself.
To find more about the amazing things that Macmillan nurses do, please visit their website Macmillan Cancer Support
October 1, 2013