Olympics chief visits Dukes Meadows sports centre

The Olympics chief Lord Coe visited the area and met local schoolchildren as part of his programme of visits to London Boroughs in the run-up to the 2012 Games. He was welcomed by local MP Mary Macleod, as well as the Mayor of Hounslow and other councillors, and the MP for Feltham and Heston, Seema Malhotra.

He took a tour of the Dukes Meadows facilities and watched children playing tennis, and athletics.

Mary Macleod said "It was great to welcome Lord Coe to my constituency today and to show him the work that is being done in the London Borough of Hounslow to encourage young people to get more involved in sport.

He has been an inspiration to so many people in sport today because of his personal sporting achievements and I know that the country is also grateful for his dynamic leadership of the 2012 London Olympic and Paralympic Games.

With Lord Coe, we saw young people participating in tennis, golf, athletics, boxing, rowing and even skiing! It was a fantastic opportunity for the pupils of St Mary's Primary School in Chiswick to meet him and demonstrate some of the different sports they are getting involved in.
Lord Coe with Mary Macleod and Year 4 teacher Katie Rees, with children from St. Mary's School
"The true legacy of the Olympics will be if more Londoners participate in more sport in the years to come and become fitter and healthier as a result. Stephen Marks at Dukes Meadows has shown real leadership in London by creating an Academy, here in my local area of Chiswick and is giving 3,000 school children every year the opportunity to get involved in sport for free. Stephen and his team at Dukes Meadows have worked so hard to bring to life their vision of a top class sporting environment that is open to everyone. They are hoping to expand their tennis programme over the summer holiday, with free tennis courses for primary schoolchildren across the borough in a scheme that will rival the best in the country. What better legacy could we have locally in this exciting Olympic year?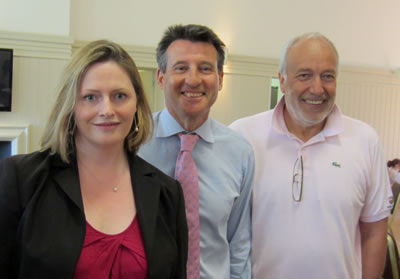 Mary Macleod with Lord Coe and Stephen Marks owner of Dukes Meadows Tennis and Golf Academy
"Alan Watkinson, the Schools Sport Partnership Manager, has also worked really hard to implement the legacy programmes across the Borough. We are proud to be part of the city that is hosting the London 2012 Olympics and Paralympics. We want to also be part of the legacy following the Olympics, creating a fitter and healthier city, for ourselves, our families and generations to come."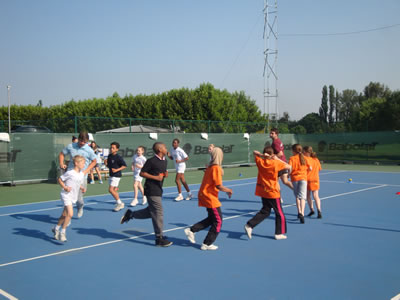 Children from Strand-on-the Green School
Also present for the visit were the Mayor of Hounslow, Jagdish Sharma Leader of the Council, Mary Harpley CEO of Hounslow Council, Seema Malhotra MP for Feltham and Heston and Cllr Robert Oulds local Councillor for Chiswick Homefields.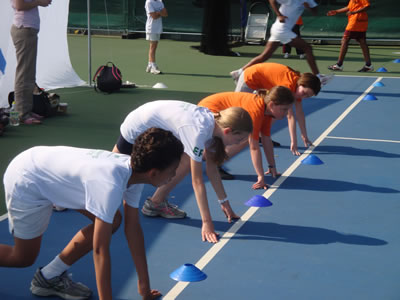 Strand-on-the-Green children show their running skills
During his visit, Lord Coe saw how young people are taking part in sports such as athletics, rowing, golf and tennis. He also met the coaches running the programmes. The sports are part of Hounslow's sporting legacy programme which is to encourage more children into sport.
Fifteen primary schools have already signed up for tennis and golf lessons for the next school year which will be provided by the Dukes Meadows centre. Ten secondary schools in the borough have signed up for rowing classes, which are being provided by London Youth Rowing, and the Boat Race Company, and supported by a grant from the Oxford and Cambridge Rowing Foundation, with funding matched by Hounslow Council. Currently between 30 and 40 pupils a week are taking advantage of the Council's free athletics sessions at the new athletics track in Osterley.
May 29, 2012