Waldorf Astoria Hotel to Open in Early 2011
Hilton Worldwide announced the signing of an agreement with the Ability Group to open a new Waldorf Astoria Hotels & Resorts hotel in Grade I-listed Syon Park, West London. London Syon Park, a Waldorf Astoria Hotel is scheduled to open in early 2011, offering an exceptional blend of parkland tranquillity and easy access to the city centre.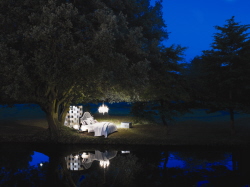 Looking out across the River Thames onto Kew Gardens, Syon House and its 200 acre park is the London home of the Duke of Northumberland. Only seven miles from both Knightsbridge in central London and Heathrow airport, the luxury hotel sits close to the main house and will make an ideal location for business and leisure travellers.
The 137-guestroom hotel will offer state-of-the-art meeting and conference facilities plus several destination restaurants and bars. A bespoke spa experience has also been developed for the property. Guests will have use of the park grounds, with all year-round access to the Syon House gardens and activities including trout fishing.
John Vanderslice, Global Head of Luxury and Lifestyle Brands at Hilton Worldwide, commented: "The aim of all Waldorf Astoria Hotels & Resorts is to offer unparalleled service and quality, building on the success of the renowned Waldorf=Astoria in New York and its legacy of timeless luxury and personalized experiences. London Syon Park Hotel, A Waldorf Astoria Hotel will undoubtedly achieve that aim, and guests can expect a truly luxurious experience with the highest level of service and comfort in exceptional surroundings."
Patrick Fitzgibbon, Senior Vice President Development, Europe and Africa, said: "We are delighted to announce the addition of London Syon Park, A Waldorf Astoria Hotel to our European portfolio, bringing us to five Waldorf Astoria Hotels & Resorts properties now open or under development across the continent. London is a key destination in our global plans, and this hotel will offer discerning travellers something completely new – a luxury parkland retreat only moments from the centre of one of the world's great cities."
Unique features of London Syon Park, A Waldorf Astoria Hotel will include a butterfly house in the lobby; an ice-cream parlour; a park-view first-floor terrace with seasonal food and drink offering; seven luxury suites, each with their own exclusive and palatial theme; and 1,000 square metres of meeting and event space. There will also be a swimming pool and full sensory spa experience, while a proposed exclusive agreement with Mr Alex Karidis will offer guests discreet treatments from the celebrity surgeon.
The bar and restaurant concepts have been created by the Gorgeous Group, while The Ability Group have led the design of the guestrooms and communal spaces, working with independent interior design consultants.
Andreas Panayiotou, Chairman of The Ability Group, said: "Building a Waldorf Astoria hotel in such a stunning location as Syon Park is a rare opportunity not to be missed. We're creating a true destination hotel which benefits from the proximity of London and the tranquillity of the countryside, where guests can come to relax and socialise in an environment of playful luxury. We now have five hotels open or under development with Hilton Worldwide and are proud to be working with them in creating such a great addition to the London hotel scene."
The Duke of Northumberland said: "I am very pleased that a Waldorf Astoria hotel will be opening in Syon Park, which has been my family's London home for over 400 years. Construction of the hotel included the restoration of a number of important historic features designed by the great landscape architect Lancelot "Capability" Brown. The future additional revenue will also enable restoration work to Syon House itself, which contains arguably one of Robert Adams' finest interiors."
London Syon Park, A Waldorf Astoria Hotel will be the fourth Waldorf Astoria property to open in Europe, reflecting the luxury brand's dynamic international expansion. Waldorf Astoria Hotels & Resorts includes more than 20 landmark destinations around the globe, each with its own story and identity and all inspired by the level of service that define the legendary Waldorf=Astoria New York. In Europe, a further property is due to open in Berlin in 2011.

For more information about London Syon Park, A Waldorf Astoria Hotel please visit www.londonsyonpark.com

November 23, 2010