Part of London's Great Outdoors campaign
Brentford has been chosen by London Mayor Boris Johnson as one of nine regenerated areas to front the London's Great Outdoors campaign which encourages Londoners to explore the city on their doorsteps.
The area has had a major facelift thanks to a cash injection from City Hall's Outer London Fund, which is designed to spruce up some of the capital's forgotten pockets and town centres. The £1.26million grant was match-funded by Hounslow Council and private investors to transform Brentford Town Centre with the aim of making it more attractive to pedestrians and inviting for cyclists.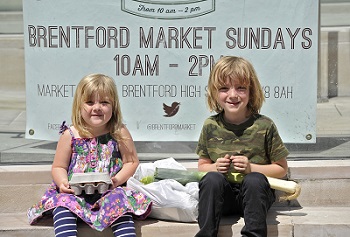 A 1km stretch of Brentford High Street and the barge sheds along the tow path leading to Great West Road have been improved; to include new stone paving, outdoor seating, design commissioned cladding to the industrial sheds and extra lighting installed in time for a programme of culture being staged there. The new-look market place boasts a vibrant weekend market and space for outdoor staged performances.
Brentford joins eight other areas being heralded as flagships of regeneration in the London's Great Outdoors guide to hidden gems in the capital for people to explore.
Councillor Steve Curran, Leader of Hounslow Council said: "It's very gratifying that the regeneration of Brentford has received recognition and that our efforts to help make our corner of London a greener more pleasant place to live and work are not going unnoticed."
Daniel Moylan, Chairman of the Mayor's Design Advisory Group, said: "Over the course of the Great Outdoors scheme, the cityscape has transformed before our very eyes and I am delighted with the enhancements that have taken place. Whether they are spruced up high streets, improved green spaces, or a new-look market, each project in Brentford has given a makeover to this area of London and made it a better place for everyone to use and enjoy."
The Mayor's Great Outdoors campaign will be promoted on the Tube and DLR across 239 stations for a fortnight starting from Friday 7 August.
The other areas being promoted are Balham, Barkingside, Breakers Yard, Hackney, Bromley Town Centre, Elephant & Castle, Mayow Park in Lewisham, Harrow and Nunhead.
For more information and a map of all nine featured areas visit www.london.gov.uk/outdoors
August 11, 2015