Gives music students the opportunity to work with the English Chamber Orchestra
London College of Music (LCM), part of the University of West London (UWL), has announced a year-long partnership with the world-renowned English Chamber Orchestra (ECO).
LCM has been working hand-in-hand with the ECO to create an Ensemble-in-Residence made up from leading members of the orchestra. This partnership offers LCM's talented classical music students the unrivalled opportunity to work closely with ECO musicians in performance and composition workshops.
Students will participate in side-by-side rehearsals and orchestral coaching with ECO, and will benefit from a series of eight master classes given by the orchestra's musicians. They will also have the chance to gain insight into the professional orchestral world and undertake work experience placements in the orchestral administration office and the music library of ECO.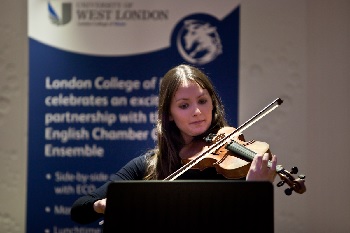 Additionally, LCM and the ECO are working with Arts 4 Dementia to set up an innovative new programme of workshops for musicians in the early stages of dementia. LCM students and musicians from ECO will participate in an early-stage dementia awareness training day, and LCM will run a series of eight workshops from February. Through these workshops, LCM students will actively contribute to research into the potential of music in dementia.
Dr Emilie Capulet, Head of Classical Performance Studies at LCM, said: 'Our partnership with the ECO is an inspiration for LCM students, offering them the unique opportunity to work and perform with musicians from one of the world's most dynamic orchestras'.
ECO General Manager Pauline Gilbertson added: "We are delighted to be entering into a partnership with London College of Music and our musicians are thrilled to have this opportunity to share their skills with LCM's students. This is our first close association with a college and we look forward to engaging with LCM in many different ways".
Members of the public can attend the two lunchtime concerts in February and April, which are part of LCM's Celebrity Recitals series, in addition to a composers' workshop given by members of the ECO. For information about tickets and all LCM Live events, please visit: www.uwl.ac.uk/lcmlive. See below for programme details.
19 February 2015, 4pm – 6pm
Vestry Hall, Ranelagh Road Ealing, W5 5RJ
Composers' Workshop: ECO Ensemble String Quartet
Intimate Voices: The String Quartet Story.
An inspiring afternoon charting the string quartet's emergence as a form from late Baroque chamber music through to the present day. With copious illustrated extracts from the major works of the repertory and an opportunity for all to discuss and explore the techniques and textures associated with writing for the string quartet.
25 February 2015, 1.10pm
Lawrence Hall, UWL's Ealing campus, St Mary's Road, W5 5RF
LCM Live Celebrity Recital: ECO Ensemble String Quartet
Intimate Voices: Haydn and Shostakovich
John Mills and Jeremy Isaac, violins / Jonathan Barritt, viola / Timothy Lowe, cello
Haydn String Quartet in E flat Op. 33 No. 2. 'The Joke.
Shostakovich String Quartet No. 8 Op. 110 in C minor
15 April 2015, 1.10pm
Lawrence Hall, UWL's Ealing campus, St Mary's Road, W5 5RF
LCM Live Celebrity Recital: ECO Wind Trio
Programme TBC

@LCMLive
January 16, 2015