The Future for Commerce Road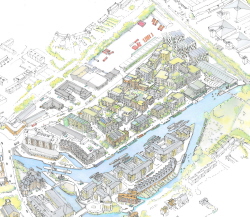 ISIS has now submitted an Outline Planning Application for the proposals at Brentford Lock West, also known as Commerce Rd, behind the Holiday Inn. The registered planning application can now be viewed on the council website.
The latest proposals are about:
· creation of a widened towpath with open spaces to celebrate Brentford's waterways and promote links between the Great West Rd businesses and Brentford town centre;
· retention and conversion of canal-side warehouses into a new commercial business hub;
· retention of the art-deco frontages onto Commerce Rd – for business use;
· provision of approx 7000 sqm of business space in total;
· provision of up to 520 new homes – over a third of which will be 3 or 4 bedroom family sized units;
· creation of garden spaces, roof terraces and generous central courtyards;
· delivering an environmentally conscious place with its own energy centre;
· creation of a new canal square adjacent to the sheds;
· provision of a new pedestrian footbridge over the canal and upgrading of the existing open space adjacent to Robin Grove (subject to further consultation with local residents);
· retention and redevelopment of the bus depot facility at the north end of Commerce Road;
· provision of space to accommodate a new base for local canoe club/s or a watersports centre / community use;
· provision of space for a small cafe and / or restaurant in the new canal-side square.
See the Aerial view enlarged and a few more photos
November 4, 2010