Created by local artist Claire Ireland to commemorate 400th anniversary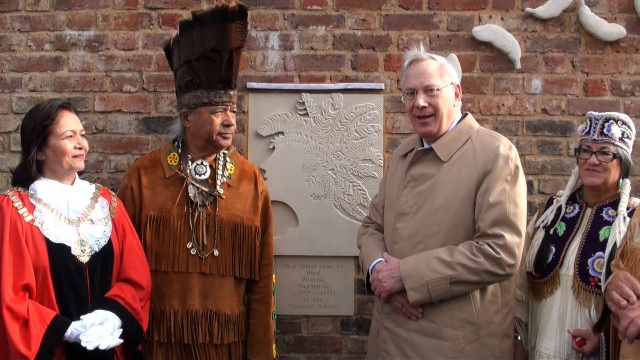 The Duke of Gloucester, representatives of the Richmond Virginia Indian Tribes and Councillor Ajmer Grewal, Mayor of Hounslow
His Royal Highness, The Duke of Gloucester cemented a place in Brentford's history for Pocahontas, by unveiling a plaque in her memory on Monday.
This month marks the 400th anniversary of the death of Pocahontas and to commemorate this, The Duke was joined at a special event by local dignitaries including representatives from the Richmond Virginia Indian Tribes.
The plaque has been installed in a niche in the boundary wall of Syon House (on London Road), close to the location where Pocahontas and her family lived for a short time. The theme of the event was From the James to the Thames, charting Pocahontas' journey from her native America, where she was raised along the banks of the James River to the River Thames, here in London. She died and was buried at Gravesend in March 1617.
Also in attendance was Councillor Steve Curran, Leader of Hounslow Council, Councillor Ajmer Grewal, Mayor of Hounslow, Lord Watson, Chair of Father Thames Trust, representatives of the Thames Landscape Strategy, Father Thames Trust, plus community and voluntary groups. The plaque was designed by local ceramic sculptor Claire Ireland, who also oversaw the installation of the plaque.
Following the unveiling of the plaque, guests enjoyed a reception at Syon House.
A celebration of Pocahontas was also enjoyed by local schools in Isleworth, who were invited to take part in a special art competition to mark the event.
Winners of the competition was The Smallberry Green School, with Marlborough Primary School [2nd] and St Mary's Primary School [3rd].
Councillor Steve Curran, Leader of Hounslow Council said: "It was a great pleasure to have His Royal Highness, The Duke of Gloucester here in our borough for this occasion and those representing the Richmond Virginia regional community and Virginian Indian Tribes.
"Pocahontas is known universally but many people didn't realise Pocahontas lived here in Brentford.
"She was an early role model for many because of her stand against racism, sexism and ageism in her time and I'm delighted that together with the Thames Landscape Strategy, we now have a lasting memorial to commemorate the links between Pocahontas and our borough."
March 23, 2017