Jason Bowyer remembered as 'imaginative, generous and supportive colleague'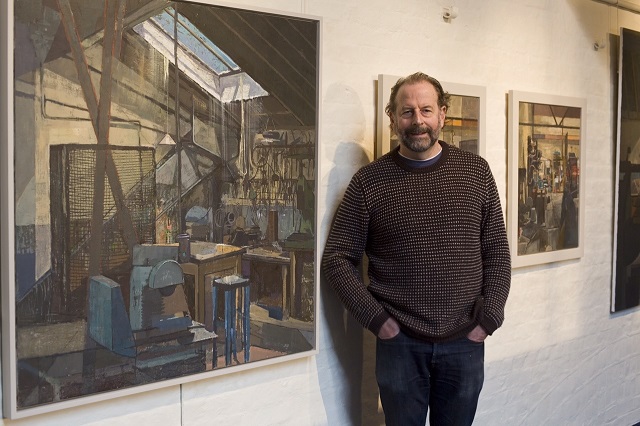 Jason Bowyer, 2017 at London Museum of Water and Steam
Brentford based artist Jason Bowyer died this Sunday 17 February leading to a wave of tributes from across the arts and heritage world.
He was born in 1957 in Chiswick to William, who was also an artist, and Vera, who was a sculptor, and not surprisingly showed a marked artistic talent as a child. After attending Chiswick School he studied Foundation and BA Fine Art at Camberwell School of Art, then a Post Graduate Diploma in Painting at Royal Academy Schools.
He was also a keen sportsman although he had to make do with turning out for Old Meadonians when his ambition to play for Fulham and England went unrealised. He continued to play cricket at Walberswick in Sussex where generations of his family spent their holidays and he turned out for the village team. He supported Fulham FC.
He was a trustee of the William Hogarth Trust and a big supporter of Hogarth's House donating his time and work to support the venue.
In a statement following his death the Trust said, "He was a board member from 2003 – a warm, imaginative, generous and supportive colleague. We will miss him enormously.
"We loved Jason's enthusiasm for Hogarth and for Hogarth's House. He helped run a lively 'Big Draw' event there, made a handsome painting of the ancient mulberry tree for the House and was an energetic co-curator of The Small Self, our exhibition of self-portraits which marked the 250th anniversary of Hogarth's death in 2014. This self-portrait was his contribution to it.
"We got to know Jason's work through exhibitions at The London Museum of Water and Steam, where he had had a studio for over 20 years. Some of us seized the chance to do an art class there with him and we greatly enjoyed his very sociable private views!"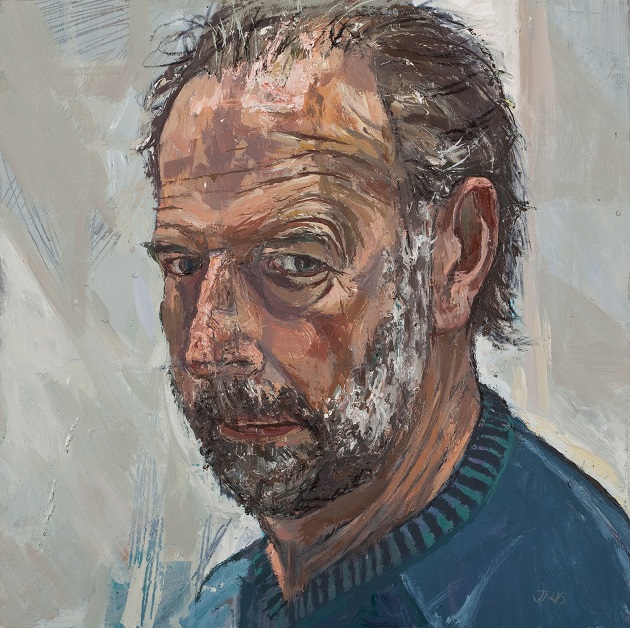 Jason Bowyer self-portrait
He was also a key figure within the New English Art Club along with his father and brother Francis and was Past President and Founder of the NEAC Drawing School.
They said, " He was always at the centre of the club – a vocal and passionate contributor at committee meetings throughout the years. More importantly, he was a doer – in 1993, he founded the NEAC Drawing School which he always championed, fuelled by an obsession with drawing."
He is survived by his wife Claire, a ceramicist, and their son Leo.
February 20, 2019