Details of the majority of residential towers finalised
Hounslow's Planning Committee approved the reserved matters regarding the residential developments (excluding the Duffy site) that are part of the Lionel Road Stadium development.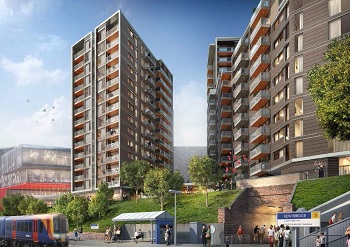 Central Southern site, from Kew Bridge station
Planning permission was granted in November 2015 for the full stadium but only for the outline of the residential development.
304 homes will be provided for private sale and 344 for private rental through Willmott Dixon's Private Rental Sector company be:here. In a move that will go down well with residents of Brentford the homes will be branded "Prime Place, Kew Bridge". The homes will be in a mix of one, two and three-bedroom apartments.
On completion of the stadium Brentford FC will relocate and Griffin Park will be turned into 75 two, three, four, and five-bedroom family houses for private sale, including a memorial garden to celebrate the history of the football ground.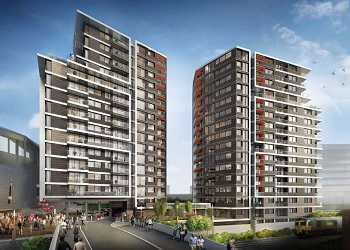 Central Eastern from new bridge
Brian Brady, managing director of Prime Place, said: "We are delighted to get the green light from Hounslow Borough Council and are very much looking forward to working closely with Brentford FC to deliver a superb new stadium for the Bees and badly-needed housing in a superb location that will meet the strong demand in Brentford for high quality homes for rental and private sale."
Chairman of Brentford FC, Cliff Crown, commented: "This is another step towards realising our dream of playing in a new community stadium. We are very pleased to be working with the Prime Place team who have a proven track-record of delivering high quality housing within a wider regeneration project. As well as creating a brand new stadium for our supporters and an attractive environment for visitors and local residents, this project will create jobs and opportunities for local businesses. We have an exciting future ahead of us."

Capital Court

December 11, 2015