Over Compulsory Purchase Order necessary for stadium development
Tuesday saw the opening of the public inquiry into Compulsory Purchase Order (CPO) necessary for the Lionel Road development. Opening statements were made on behalf of Hounslow Council and Brentford Football Club. These were closely followed by testimony from Brendon Walsh and Shane Baker, Brian Burgess, Chris Gammon and Catherine Raynsford who collectively set out the history of the need for the CPO.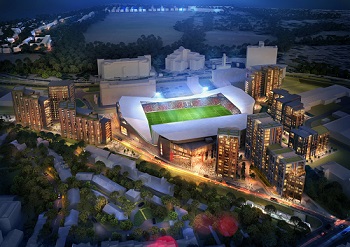 Green Dragon Lane Housing Co-operative have put in a formal objection and were heard on Thursday as several of their properties will lose some light as a result of the development.
Brentford Football Club say they need a bigger modern stadium in order to become financially viable and they can't do that at Griffin Park. Lionel Road and the 910 flats are needed in order to finance the stadium. Hounslow Council has supported keeping Brentford FC in Brentford under current and previous administrations.
Written objections have been made by amenity groups such as West Chiswick and Gunnersbury Society and Strand on the Green Residents' Association.
The CPO is needed primarily because First Industrial (FIL) have refused to sell their Capital Court site on Capital Interchange Way. The site has been empty for a number of years and Brentford FC are arguing that First Industrial are simply holding on to their land for a higher price, despite protracted negotiations between FIL and BFC. FIL have suddenly announced to the Secretary of State that they would like to be a development partner instead of making an outright sale.
The developers say that the whole project is not financially viable without Capital Court as it proviSeptember 11, 2015footprint of the bridge that goes over the railway providing access to the eastern end of the site and stadium.
First Industrial will be heard and cross-examined on Monday-Thursday next week with the inquiry, held at Brentford Free Church, finishing on the Friday. The Planning Inspector will then write his report and recommendation which he submits to the Secretary of State Greg Clarke for a decision. If a decision is granted for the CPO then the stadium itself will take two years to be built.
Overview of completed development at Lionel Road South
September 11, 2015