Consultants advise rebranding as Chiswick Cougars
Brentford Football Club look set to proceed with a rebranding exercise which will see the club adopt a new name when it moves to its new ground in Lionel Road.
Sources close to the club say the move aims to increase the selling price of flats in the nearby enabling development and send an olive branch to residents in the local area who will be affected by building work over the next decade.
The plan, which has the backing of the club's main banker Barclays, was first conceived when responses to the consultation on the stadium development showed that a substantial proportion of the current fan base lives outside the area. With Chiswick's population being nearly twice the size of Brentford's and the new ground just a stone's throw from Chiswick High Road it was felt that the time was ripe for a move. The success of MK Dons in retaining support when moving from Wimbledon was cited as a good precedent for the decision.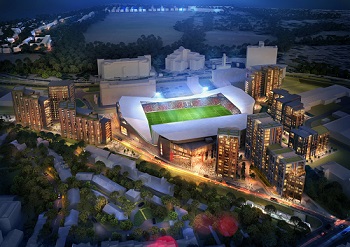 The Kew Bridge Arena
A confidential report by consultants commission by Brentford FC has shown that the name of a nearby football club can have a significant impact on property prices. For instance developments adjacent to Chelsea FC or Fulham FC attract a premium whereas those near to Charlton or Millwall sell for a much lower price. Branding consultants employed by the club have recommended that the club be renamed Chiswick Cougars and abandon the current red and white vertical strip kit for a burgundy and yellow combination. The stadium itself is to be known as the Kew Bridge Arena.
Avril Amadan, Senior Look Reimaginer at Totally Unbelievable Brands said, "Brentford brings to mind nylons and light industry and red and white stripes are very nineteenth century. The club's brand currently will be a real drag on the selling price of the flats. Yellow is associated with power and burgundy has very positive associations in Asian countries where many of the flats buyers will come from."
The scheme has the backing of Hounslow Council who are going to rename some of the roads near the new ground. Strand on the Green is to become Chris Kamara Way, Wellesley Road will be known as Kenny Coote Road and Stile Hall Gardens will be Lloyd Owusu Gardens.


April 1, 2014