Councillors back Brentford's new stadium and associated housing
Brentford FC's new stadium and associated enabling development has been approved by Councillors after a four hour meeting with the vote being taken just before midnight.
The votes went largely along part lines with Conservative councillors other than Paul Jabbal voting against with all Labour councillors voting in favour giving a final vote of 9-5 for approval.
Lampton Road Conference Centre was packed as over 500 interested people gathered to watch the decision making process.
Brentford councillors had stood down recently from the Planning Committee so it was chaired by Councillor Tom Bruce from Bedfont ward.
Twenty minutes were given to each side to present their case. Brian Burgess, Brian Sawyer, Suzie Betlem, President of Brentford Chamber of Commerce and Steve Cowan, season ticket holder all spoke briefly, followed by Cliff Crown, Chairman of Brentford FC. The planning committee then grilled the speakers.
Representing the objectors were Denis Browne for the Brentford Community Council, Marie Rabouhans for West Chiswick and Gunnersbury Society, Robert Colvill and John Burrow for Strand on the Green and Martin Taylor from the Kew Society.
Scheme architect Richard Jones and Brentford FC Chief Executive Brian Burgess
They were briefly questioned by the committee before the planning officer, Shane Baker summarised the application. After asking questions the councillors each briefly commented saying whether they were in favour or opposed before the official show of hands.
The application was approved to a round of applause and will now be referred to the Mayor of London and the Secretary of State.
Commenting on the scheme and the approval, the Chairman of Brentford FC, Cliff Crown said, "Our vision of an exciting new hub at this brownfield site has taken a significant step towards realisation with the council's decision to approve our application. The support we have received from many sections of the local community and our fans throughout this process has endorsed our belief in the need for this change. We would also like to express appreciation to the Council Officers and Members for demonstrating their support for our plans."
"This is a once in a generation chance to create a vibrant new stadium and adds to the buzz that is going on around Brentford. Brentford is on the up as a destination, with new homes, retail, sports and leisure facilities which bring new jobs to the area."
"Brentford Football Club will be returning close to where it was founded in 1889. We are proud of our history at Griffin Park, where we have always been a good neighbour. In planning for our new home, we look forward to working with residents and businesses as well as our new neighbours in Chiswick and Kew, and together we can all seek to make the most of the new opportunities for the benefit of everyone."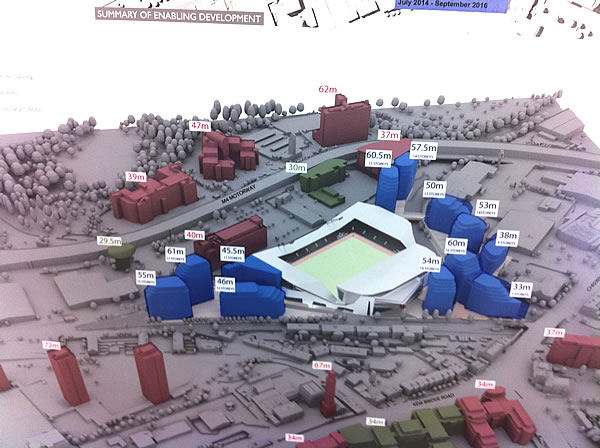 December 6, 2013