Public consultation on the latest refinements to Lionel Road
In January the initial proposals for the redevelopment of the Lionel Road South site were presented at a public consultation exhibition held over three days.
The exhibition was attended by over 300 people and was the first step in consulting local residents on the proposals.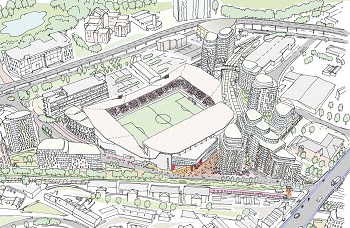 It is time for a second exhibition that will present the further development of the proposals.

The project vision is to:
• provide a modern high quality 20,000 seat stadium for first class, professional football and rugby with income growth potential in order to secure the long term sustainability of Brentford Football Club;
• provide a social focal point with a buzz of activity;
• enable the Brentford FC Community Sports Trust to provide a range of activities that will:
- attract all age groups from all sections of the local communities;
- promote sport, health, education, employment and training, social enterprise and social inclusion;
• assist in the regeneration of the area and build close links with local businesses and residents.
This project will be funded by enabling development that will include some 900 flats.

EXHIBITION

Dates Thursday 21st March: 5:30pm - 8:30pm
Friday 22nd March: 1pm-5pm
Venue Griffin Park, Braemar Road Entrance

Date Saturday 23rd March: 10am – 1pm
Venue Brentford Fountain Leisure Centre,
Sports Hall
Even if you cannot make the exhibition please contribute your comments:
You can write to us at our FREEPOST address:
Brentford Community Stadium
FREEPOST RLSX-KHXT-BGSR
c/o Four Communications
The Communications Building
48 Leicester Square
London, WC2H 7FG

T: Nicholas Vose on 020 3023 9081
E: nicholas.vose@fourcommunications.com
www.brentfordcommunitystadium.com
March 21, 2013