All three ceilings need repair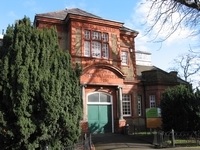 Councillor Corinna Smart, Cabinet Member for Public Health and Leisure, Hounslow Council, said: "Following further detailed assessments carried out by structural engineers, initial findings indicate that repair work will be required to all three ceilings at Brentford Library.
"There will now be a full report put together about the details of the work that is to be undertaken and this will be ready for the beginning of the New Year.
"Hounslow Council has again asked Carillion, who manage the borough's libraries on behalf of the council, to escalate immediately the findings of this report as it is increasingly concerned about any continuing delays to the investigation.
"The Council wants to get Brentford Library re-opened as soon as it is safe to do so and we hope to announce a re-opening date very early in the New Year.
"Meanwhile, both the Council and Carillion have decided that the library will remain temporarily closed until all investigations have been completed and both parties agree it is safe to re-open.
"Carillion and the Council apologise for any inconvenience caused to residents and library users while the library is temporarily closed.
"While the library is temporarily closed, residents and library users can return books and items to any library in Hounslow and can renew items online or by telephone, visit http://www.hounslow.info/
December 28, 2016