Plaster fell down from the ceiling in the children's library
Brentford Library has been closed until further notice due to plaster falling from the ceiling.
The facility has been shut since last Thursday (10 November) and an investigation is taking place to determine when it will be safe to reopen.
Councillor Corinna Smart, Cabinet Member for Public Health and Leisure, Hounslow Council, said, "Carillion, who manage the borough's libraries on behalf of Hounslow Council, informed us on Thursday [10 November] that plaster from one of the ceilings in the Children's section at Brentford Library had fallen overnight.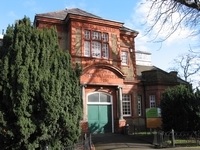 "The Children's section was closed with immediate effect pending investigation and a structural engineer called in by Carillion to investigate.
"The Council and Carillion subsequently decided to keep the library closed until the investigation has been carried out and both parties agree that it is safe to re-open."
Cllr Guy Lambert said on the Brentford forum that the concern is apparently related to potential harmful dust rather than further collapses and they will be making further tests on Wednesday.
Rresidents and library users can return books and items to any library in Hounslow and can renew items online or by telephone.
November 18, 2016