Celebrating National Bookstart Week for the young
Participate
Brentford Library
Boston Manor Road. TW8 8DW
Tel: 020 8560 8801
E-mail: hounslow-info@laing.com


Opening hours:
Monday 9.30am - 8.00pm,
Tuesday 9.30am - 5.30pm,
Wednesday Closed,
Thursday 9.30am - 8.00pm,
Friday Closed
Saturday 9.30am - 5.30pm,
Sunday Closed.

Sign up for our free newsletter

Comment on this story on the
On the 29th of June Fairy Tales came to life at Boston Manor House, as the Librarians and Storyteller from Chiswick, Brentford and Osterley Libraries put on their fairy wings, sprinkle magic dust over the Park and House, and read stories to 50 children over 3 sessions.

The storytimes were followed by a Porridge craft inspired by Goldilocks and the Three Bears, and a Magic Bean planting session outside in the sunny grounds. This event was top celebrate national Bookstart week - making reading fun for under 5s and their families.

It was also an opportunity to explain the many other services for all the family available from Hounslow Cultural Services.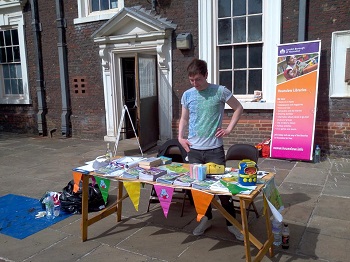 Lots of fun was had by all - look out for our next Family Fun afternoon at Boston Manor House on the last Saturday in July!

July 9, 2013