National Day of Protest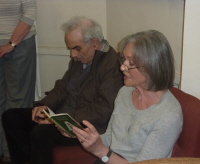 Anna Ford reading aloud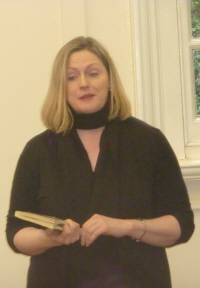 Mary Macleod MP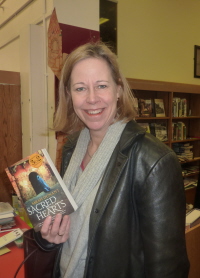 Ruth Cadbury
Participate
Brentford Library
Boston Manor Road. TW8 8DW
Tel: 020 8560 8801
E-mail: hounslow-info@laing.com


Opening hours:
Monday 9.30am - 8.00pm,
Tuesday 9.30am - 5.30pm,
Wednesday Closed,
Thursday 9.30am - 8.00pm,
Friday Closed
Saturday 9.30am - 5.30pm,
Sunday Closed.

Sign up for our free newsletter

Comment on this story on the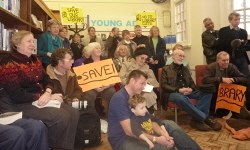 Over 100 people came to Brentford Library on Saturday 5th February to show support for the library, with a public read-in that started with Anna Ford giving a robust defence of the contribution libraries make to the community before reading The Tailor of Gloucester.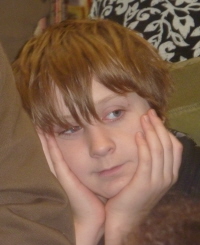 Our MP, Mary Macleod picked up The Boy in Striped Pyjamas off the shelf to read from and Brentford ward councillor and Deputy Labour Leader Ruth Cadbury brought her current book club book. Local councillors Matt Harmer and Steve Curran also attended as did actress Susan Penhaligon.
Local residents and former librarians Hazel Dakers and Jill Allbrooke organised the event gathering many local residents who came to listen to two hours of book readings.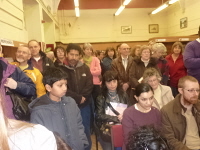 Chair of Hounslow Liberal Democrats Hazel Dakers said:
" To quote author Philip Pullman who said in January this year: "It's not our job to cut services. It's his [the Leader of the Council] job to protect them. " If any part of the library cuts go through, it is the most vulnerable in our society who will suffer - the unemployed, the disabled and the elderly for whom travel to main libraries may not be possible. The glorious thing about public libraries is that they serve individuals in different ways according to their needs. The wonderful turnout of more than one hundred people for the Brentford Library Read-in demonstrates just how badly it is wanted."
ITN covered the protest and the item can still be seen. Ruth Cadbury states "This government's deficit strategy is forcing us to make unacceptable cuts to front line services."
BBC also covered the protest.
An online petition can still be signed at http://petitions.hounslow.gov.uk/BrentfordLibrary/

February 10, 2011