'Dire standards' at Brentford Fountain Leisure Centre and New Chiswick Pool

Sinks out of action at New Chiswick Pool. Picture: Charlotte Kimpston
A local resident has set up a petition over what she describes at the 'dire standards' at local leisure centres. The petition is 'to drastically improve the facilities at Brentford Fountain Leisure Centre and New Chiswick Pool as soon as possible'.
..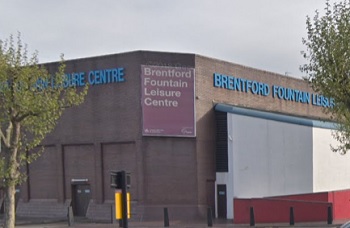 Charlotte Kimpston says she has been lobbying for improvements for some time and has had two meetings with representatives of Hounslow Council and Fusion Lifestyle to resolve the problems she believes customers (and staff) face. Fusion Lifestyle is the company that manages the facilities on behalf of London Borough of Hounslow.

Rust in the roof above the training pool at Brentford Fountains. Picture: Charlotte Kimpston
She says that despite these efforts there have been no improvements in the standard of repairs, hygiene and general maintenance. She wants Hounslow Council to authorise the necessary improvements and increased maintenance.
According to Mrs Kimpston some of the continuing issues are the roof leaking at Brentford Fountain Leisure Centre, unusable lockers, security issues, staff shortages resulting in cancelled swimming lessons, broken or filthy gym equipment, no lights in the showers and inconsistent pool or air temperatures. Despite all the problems she lists, she says that membership fees continue to increase ever year.
Hounslow Council did consider a £68 million redevelopment of the Brentford Fountain Leisure Centre back in 2017 with funding provided the sale of the site to developers and moving the facility to the adjacent Citroen site with housing above which would have been developed in partnership with London and Quadrant.

A disabled shower that has been without a curtain or shower for some time at Brentford Fountains. Picture: Charlotte Kimpston
A Hounslow Council cabinet meeting in 2016 was told that the 30-year-old facility would not be fit for purpose in another few years. It was planned to complete the new centre by 2021 but the scheme fell through.
The 2.2 acre site where the current centre is situated, which also includes a car park, would be of considerable value if released for residential use, use way above its last valuation of £3.85million in 2009.
We asked Hounslow Council for comment but did not receive a reply.
July 29, 2019