£900k refurbishment of pool and gym equipment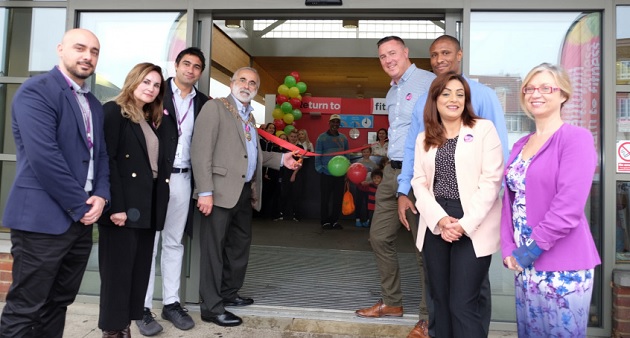 Mayor of Hounslow, Cllr Tony Louki wields his scissors to relaunch Isleworth Leisure Centre
Visitors to Isleworth Leisure Centre can expect a gym packed full of brand new equipment including personal TV screens on all cardio equipment following a £900,000 refurbishment.
The revamp also saw the pool and changing rooms fully refurbished.
The majority of the investment was jointly funded by Hounslow Council and Fusion Lifestyle, which manage the council-owned facility.
Fusion business manager for Hounslow Duwaine Sinclair said the changing rooms and pools had been in particular need of sprucing up.
He said: "They were old buildings, they were quite tired. The swimming pools were re-lined and all of the tiling in and around the pool halls was also replaced."
The second phase, which included replacing all of the machines in the gym, was solely funded by Fusion and included all new free weight, cardio and resistance equipment.
Mr Sinclair said: "We needed new IT infrastructure to support the new cardio equipment, because the new machines have integrated screens which allow for things like Netflix and YouTube to be viewed while the customers are training.
"We went top spec for what we could have sourced for the cardio equipment.
"This was an investment into the gym facilities and it's something we do in order to provide the best service to the local community."
The new gym at Isleworth Leisure Centre was opened during an event attended by the Mayor of Hounslow, Cllr Tony Louki as well as Isleworth councillors Daanish Saeed, Salman Shaheen and Cabinet member for leisure, Cllr Samia Chaudhary.
Cllr Chaudhary said: "This is an excellent example of showing our residents exactly where our investments are going and none better than the Isleworth Leisure Centre.
"It really is something for the people of Isleworth and the rest of the borough, to be truly proud of. Its facilities are second to none."
Fusion currently manages a total of six leisure centres and five public halls in Hounslow.
Mr Sinclair said the Isleworth refurbishment was part of a wider project that included Hanworth Air Park Leisure Centre and New Chiswick Pool, with a total investment of around £1.8 million.
Hanworth Air Park Leisure Centre also received a brand new state of the art gym and pools refurbishment, which was completed at the end of last year.
At New Chiswick Pool work focused mainly on the swimming pool, Mr Sinclair said, and was also completed at the tail end of last year. This centre will also benefit from a brand new gym in December 2019.
"As with all the centres that have received investment, we are seeing membership and use grow."
Written with contributions from Ged Cann - Local Democracy Reporter
October 31, 2019