Raised over four hundred pounds for Comic Relief in Isleworth
On Red Nose day Councillors Ruth Cadbury and Sue Sampson raised £406 for Comic Relief at a rush hour road "toll" in Isleworth. In their slippers and dressing gowns the two Councillors collected funds from drivers slowing down at the width restriction in Church Street. They were joined by Elvis, and local residents including Katherine Dunne.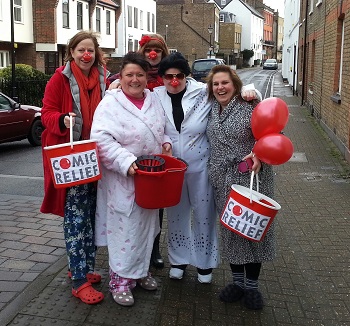 "We would like to to thank all the drivers who put their change in our mop buckets" said Cllr Ruth Cadbury. "Comic Relief funds many projects that support children living in poverty in the UK and in Africa, and every penny helps".

"It was great fun shaking the buckets and dressing up" said Cllr Sue Sampson. She added "We really appreciated the practical support from the charity Cathja, who made the "Red Nose" toll sign in their barge workshop, and by the team at the London Apprentice who generously provided breakfast."
March 18, 2013