Local Resident Ian Muir shows off his heron
Local resident, Ian Muir, commissioned a heron from Dianne Preston, one of Johnsons Island Artists.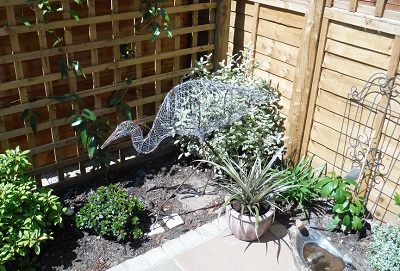 Iain had the idea of his heron when he visited the Artist's Open Weekend last year and spotted photos of Dianne's previous work.
"It's a very small garden but I was having it landscaped and thought the heron made from recycled material would be ideal for this corner bed. Dianne designed it for me to match the stalking herons I watch on my walks along the river and canal, en route to Brentford's pubs..."
Iain adds "I have not commissioned a piece of art before and Dianne was great in interpreting exactly what I was looking for. There will be 14 artists displaying their work in all sorts of mediums at the weekend, well worth a visit so you can buy 'off the shelf' or commission a piece at a surprisingly affordable price".
Johnson's Island's next open weekend is June 6th - 8th. Winning entries from an open competition held to celebrate the weekend will be on display. Access to the island is off Catherine Wheel Road, adjacent to The Brewery Tap pub which will have a BBQ for the occasion.
Visit Dianne's website to see more of her work.
June 4, 2014