First phase of restoration works have transformed this hidden gem
As one of the much loved open spaces in Hounslow, Jersey Gardens is glowing after restoration works have been completed.
The gardens, in Osterley, have undergone a number of improvements and refurbishment thanks to a £76,000 S106 scheme delivered by Hounslow Council, The Friends of Jersey Gardens and Carillion, which manages the borough's parks and open spaces for the council.
The S106 scheme is a planning requirement from which funds are used in the borough to benefit the local community.
Work has included the replacement and renovation of several deteriorated pathways, refurbishment and relocation of previously unused gates and new gates also installed, plus improved access points to the play area.
Several areas of fencing around the park have also been repaired.
The programme of works follows a long successful campaign by the Friends of Jersey Gardens who worked together with the council to look at what needed to be done to restore the park and access the funding needed.
Councillor Steve Curran, Leader of Hounslow Council, said: "We're delighted to see the first part of the works completed and already you can see the impact the improvements have made.
"It was a good working partnership between the council, The Friends of Jersey Gardens and Carillion and it means that Jersey Gardens can be enjoyed by many more people and for years to come."
Jersey Gardens, named after the Earl of Jersey who owned Osterley Park, was originally a disused gravel pit in the late 1920s and early 1930s.
After the demand grew for more open spaces in London boroughs, it was decided that with additions and work carried out, this gravel pit could become a central place to be enjoyed by the local community.
Winding footpaths, rockeries, alpine planting and a lily pond were just some of the features and as the years went on, more trees, the encouragement of wildlife, a play area and field plus a small garden and tennis courts were added.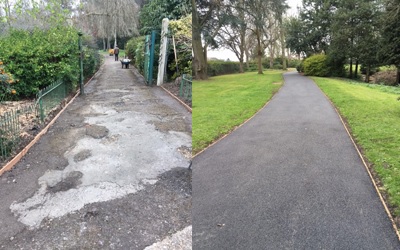 Before and after pictures
The recent works, which were also backed by Councillor Tony Louki, ward councillor for Osterley and Spring Grove, will be followed by further horticultural works and improvements to start later this year. An application to the Green Flags Awards – which awards the best open spaces in the country – has also been made with judging due to begin this month.
Colin Hume, Chair, The Friends of Jersey Gardens, said: "Everyone has been remarking how nice the gardens are looking.
"It has been a good example of co-operation between Hounslow Council, ourselves and Carillion.
"The Friends of Jersey Gardens are encouraged that further works should be taking place later this year."
If you are interested in becoming a friend or volunteer please contact Carillion at hounslow.info@carillionservices.co.uk
June 10, 2016