Hounslow Schools outperform national average in GCSEs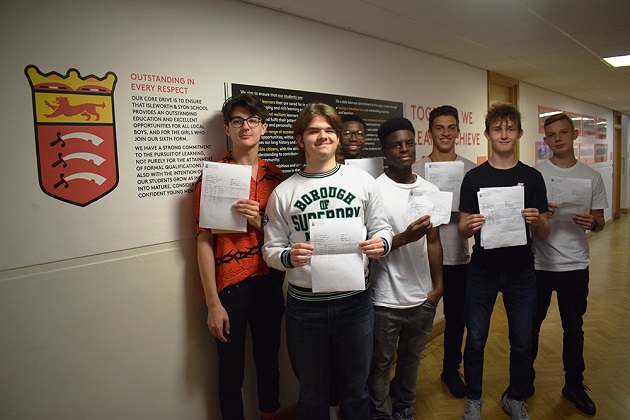 Isleworth and Syon's Philip Lisiewicz, Lars-Leander Volle, Josiah Wilson Kepple, Morgan Lawrence, Joseph Whittaker, Jack Shiels and Jakub Poskro (L-R).

As new grading systems continue to embed and GCSEs get considerably tougher, Isleworth & Syon remains delighted with its latest set of GCSE results. We were especially delighted that our top results have been maintained, with our high-ability students earning a range of top grades equivalent to A*-A. There have also been good attainment levels across the core subjects of English, maths and science, showcasing how our teaching ethos remains consistent in spite of evolving national expectations. We continue to promote a boy-focused curriculum across the school, creating a learning environment in which boys can thrive.
This year's individual results are outstanding, with a number of noteworthy successes to celebrate. Our top-performing student was Josiah Wilson Kepple; twelve months ago, he sat English language a year early and earned a top grade 9, and now he has added 7 more 9s along with an 8 and a 7. A former national champion athlete, Josiah decided to focus on his studies this academic year and has reaped the rewards; he will now look to push on in our Sixth Form this September. Joining him will be Jack Shiels, who will take three A levels with us next month having earned 3 9s, 6 8s and 1 7. Outside of school, Jack is an international trampolinist, a talent which the school has supported and encouraged during his five years with us. Completing the top three is Hussain Qurashi, who earned 9 grades at 9-7 (A*-A equivalent), including a stunning 6 9s!
In PE, Isleworth & Syon boys continue to excel. Joseph Whittaker earned full marks in his rugby practical on his way to 1 9, 5 8s, 3 7s and a 6, while Morgan Lawrence only dropped two practical marks (out of 75). Overall, Morgan earned 3 9s, 1 8 and 5 7s. It was not just sport where students earned full marks. In our outstanding drama group, 12 students earned either 100% or one mark away from full marks – a testament to the brilliant work being done by our subject specialist staff. Indeed, this year another two students gained places in the prestigious National Youth Theatre, making it nine students in five years! On the musical side, Thomas Skinner earned full marks on his piano practical, on his way to 1 9, 4 8s, 3 7s and 2 6s overall. Faced with a national picture which marginalises creative subjects, the school took the decision to maintain a breadth of curriculum, and we are thrilled with those results.
Other top performers included Ranveer Padda with 3 9s, 2 8s and 3 7s, as well as Lars-Leander Volle, who achieved a stunning 10 grades at A*-A equivalent (3 9s, 2 8s, 3 7s, 1 6). Both will continue their studies with us in September. Other students achieving multiple 9s were Philip Lisiewicz and Jakub Poskrop, with two and three respectively, as well as a string of other top grades. Joining them in the top performers roster is Ahmed Kalair, who will join Year 12 with us in September after achieving 9 grades at A*-A equivalent, including 6 8s! It is great to see these top performers recognise that staying in our top-performing Sixth Form is their best option.
After these great results, Headteacher Euan Ferguson commented, "While students across the country struggle with demanding specifications, our boys continue to perform at the highest level. With nearly 400 years' experience teaching boys, Isleworth & Syon School will always be the best option for those who want their son/ward to succeed and achieve. We wish Year 11 well as they head towards their next steps, be that in our Sixth Form or into the world of work via apprenticeship or another route. We are proud of their achievements."
Across Hounslow, pPerformance in English and Maths GCSE improved again this year, with 71.5 per cent of pupils achieving grade 4+ in both subjects, which is almost 3 percentage points better than last year.
Over half (51.2 per cent ) the students achieved the more challenging grade 5+ In both English and Maths, which is a 2 percentage point improvement compared to last year.
Pupils across the borough also performed well in their other GCSEs, with provisional information indicating that they have out-performed pupils nationally across their best 8 GCSEs. Performance in the English Baccalaureate (comprising 5 subjects including English, Maths, Science, a language and a humanities subject) were also better than last year.
For any students who are now unsure about what to do next, the Hounslow 14-19 Connexions Team are available to provide free impartial advice and guidance on the range of post 16 options available:
https://www.hounslow.gov.uk/downloads/download/547/hounslow_connexions_-_extended_opening_hours_for_augsep_only
August 23, 2019