Excellent A Level and BTEC results as overall results decline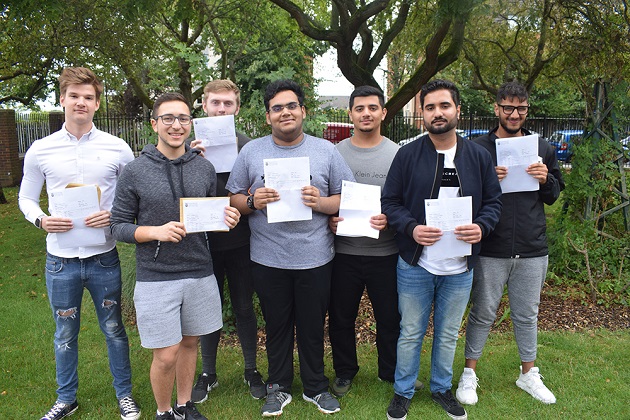 Isleworth and Syon's Tim-Frederic Volle, Kareem Zeido, Theo Mitchell-Smith, Varun Alvakonda, Ali Ali-Skafi, Farhad Ahmed and Yuvraj Assi (L-R).

Local schools appear to have bucked the national trend which saw a decline in A Level grade by achieving
Isleworth & Syon's Sixth Form had excellent results for their post-16 education. This week's top performer was Theo Mitchell-Smith, who gained A*s across the board, in biology, chemistry and mathematics, while classmate Tim-Frederic Volle gained an A* (biology) and 2 As (chemistry and maths). Both young men are pursuing veterinary medicine, at Bristol and the Royal Veterinary College respectively. This was a particular success for the school's science department, which runs a Medic Club for Year 12 students to encourage careers in medical sciences. The club is orchestrated by head of science, who regularly liaises with veterinary colleges across the country and has inspired these two successful young men to explore this passion.
There were success stories across the board. Ali Al-Skafi earned an A* and two As (mathematics, physics, technology) as well as an A in the extended project – he heads off to the world-famous London School of Economics (LSE) to take a degree in accounting and finance. Farhad Ahmed (AAB) will join him in lectures at LSE in September, while Yuvraj Assi will take a similar path – with his straight-A sweep (history, English literature, mathematics), he will also read accounting and finance, at Warwick.
Varun Alvakonda achieved an A* and two Bs, enough to earn him a place at Bath to study computer science, while Razi Makame is delighted to take finance and economics at Queen Mary's after his ABB grades. Both Qaiser Khan (AAB) and Kareem Zeido (ABB) will be pursuing science courses in September – physics and astrophysics (King's College London), and aerospace engineering (Bath) respectively. Finally, well done to Joshua Hudnott, whose AAB grades have resulted in a place at Exeter to take history and ancient history.
Once again, vocational performance at the school was extremely strong, reflecting the depth of staff expertise and support in this area. Jordan Edmund and Kyle Williams both earned triple Distinction*s in their triple sport course; they will be sticking together next year as they head off to Southampton Solent to take football studies. Special mentions as well to their course colleagues Caitlin Doyle (D*D*D) and Sophie Moore (D*DD), who will head to Bournemouth and Brunel respectively, both to continue their sport studies. Bartosz Wieloch was our top BTEC IT performer, earning a D*D* accompanied by a D in single sport. He will pursue an IT apprenticeship in Milton Keynes next year.
The school was thrilled with the results of our double business cohort; with Klejvins Vlladi, Bartosz Hryp and Sidhant Short all earning double Ds in business along with a D in single IT. All three have been inspired to continue their business studies at university, at Royal Holloway (Klejvins and Sidhant) and Kent (Bartosz).
Headteacher Euan Ferguson commented, "It's been another fantastic year for our young people who continue to thrive in a supportive school environment under the tutelage of specialist subject staff. Many are heading off to some of the best universities in the country, while others will enter the world of work via apprenticeships or another route. Whatever their next steps, we are proud of their achievements and wish them well for the future."
Gumley High School surpassed its results of last three years with more than half of students achieving A*-B grades, surpassing the last three years.
A school spokesman said this year's students had shown determination throughout their A-levels and strived for their own personal best.
He said: "Outstanding performances from key departments include Art, French, Italian, English Literature, Maths and Further Maths where the majority of students achieved A* – C grades."
Some notable successes among the students included Sofia Azevedo, who would be heading off to her first choice university, King's College London, to study Business and Spanish.
Another student, Emily Bryce, was thrilled to have gained the grades she needed to in order to study Sports Science at East Anglia. Rachel Hatherley managed to achieve A* and 2 A's in French, Spanish and History, and now hopes to use her language skills in international development.
She had some advice for younger students: "Work hard but find the right balance, your wellbeing is just as important."
Head Girl, Olivia, is one step closer to achieving her dream of becoming a Vet after receiving her outstanding A*, A*, A in Biology, Chemistry and Maths.
Anthony Graham, Head of Sixth Form, said: "I believe the bespoke support that all of our students receive during their time in Sixth Form is what gives them their advantage.
"The tireless dedication to achieving their goals is admirable and this year's success is a credit to all involved. I am excited to see what the future holds for all of our students."
Chiswick School received a total of 17% A*-A grades, which is an increase of 10% on last year in the top category. However, overall it fared less well than last year.
A total of 38% entries were A*-B grades and almost two-thirds of grades awarded (60%) were A*-C, compared to the 2018 results of 55% and 81% respectively.
The percentage of of BTEC entries at Dis-Dis* was 50%.
Some of the best A level results were achieved by students who had attended Chiswick School since Year 7. Visnja Javanovic will be going to study Philosophy at King's College London, after achieving an A* in Philosophy, A in English and A in Biology. She said she was so nervous before results day that she did not sleep a wink.
Louis Medd will be studying English at Bristol University after receiving A* grades in History, A in Politics and A in English. He praised the school for encouraging him to aim high and said he received lots of pastoral support and UCAS guidance.
Cal Chapman (pictured below in brown jacket) achieved a A in Geography, B in Politics and B in History and has accepted a place at the Univeristy of Bristol to study Politics and International Relations.
Students in the borough of Hounslow achieved a pass rate in their A Level examinations of 97%- which is just about on target with the national pass rate of 97.6% .
The numbers of students taking A level exams in the borough's schools increased from 1,200 last year to nearly 1,400 this year. Over 70% of A levels were awarded grades between A* and C.
Written with contributions from Ged Cann - Local Democracy Reporter

August 16, 2019