Isleworth community unites against Church Street closure
Residents of Isleworth are to gather together this Saturday to protest the closure of Church Street. An 18 month trial has caused traffic congestion in surrounding roads adding half an hour or more to journeys.
The Pedestrian Protest Procession is at 2pm this Saturday 30th January on Twickenham Road.
If you would like to participate meet from 1.30pm at the old telephone exchange on the Twickenham Road opposite the junction of Park Road. The intended route will be down Twickenham Road to the green opposite Ivybridge, turning down Worple Avenue and onto Worple Road finishing up at Shrewsbury Walk (the pedestrian square on South Street).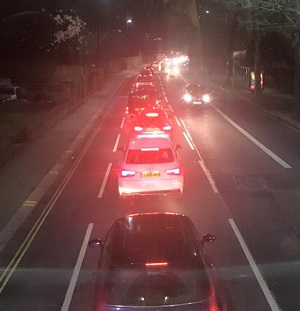 Photo Carly D'Elia 17:45
Police authorisation for the march has been granted and there shall be marshals present to assist.
Everyone is welcome, young and old. Please could people walk peacefully and in an orderly fashion, having consideration for residents and road users.
There is a very active Facebook group protesting the closure Isleworth Community to re-open Church Street
The petition to not close Church Street has over 1,900 signatures to date.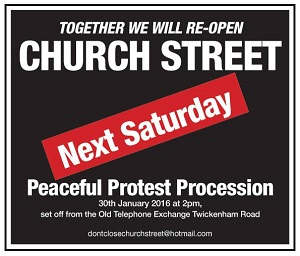 Protestors attended IBAF (Isleworth and Brentford Area Forum) last week in a bid to raise the Church Street closure at the Open Forum.
William Tyler, of Brentford firm Octink, asked how the £120,000 allocated to the Church St closure is being spent. Mark Frost, head of Hounslow Transport replied that approximately £60,000 is being spent on encouraging alternative means of transport and £25,000 to monitoring flow of traffic and air quality. The expectation is that traffic delays will vary over time as people adjust.
No further questions on the subject were allowed, with Chair Cllr Mel Collins reminding the audience that an interim report on Church Street would be brought to IBAF in September.
January 28, 2016