Historic waterway spruced up for the Rugby World Cup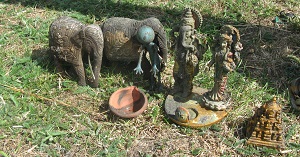 Scooters, bikes, toys, votive offerings and two guns have all been dredged up by a group of volunteers busy giving a historic stretch of river a clean bill of health ahead of Rugby World Cup 2015.

With less than four weeks to go before the world's spotlight is shone on the borough, The Conservation Volunteers (TCV) are carrying out clean-up sessions along the banks of the Duke of Northumberland's River in Isleworth. Hounslow Highways and Carillion, which manages the borough's parks on behalf of Hounslow Council, are then carting it off for recycling or disposal. Approximately a tonne of waste is being cleared for every 100m of river covered - some of it dating back decades, according to volunteer leader, Andrew Flegg.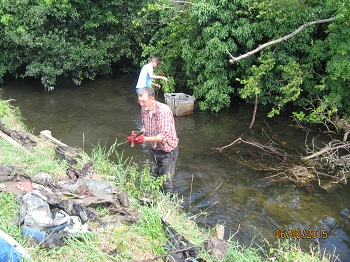 First built in the early 16th Century to power a monastery's lucrative mills, the river now wends its way through residential areas and backstreets from its source, a diverted channel from the River Crane in The Meadway, West Twickenham, to Staines Road, Hounslow, feeding two ornamental ponds in Syon Park en route to the Thames.

It passes by Twickenham Stadium, where several World Cup matches and the opening ceremony will be staged next month and visitor numbers are expected to increase when the rugby is on.

As well as the odd supermarket trolley, bike wheel, flattened footballs and beer cans, other items dredged up include votive statues of the Hindu gods Ganesh and Vishnu and two antique revolvers. The latter have been handed over to police firearms specialists.
The project has been financed by City Hall's £2million Big Green Fund which is set to transform seven areas of London.
Thousands of Londoners voted for the Duke of Northumberland's River and the adjacent Riverside Walk to be given a share of the cash in January.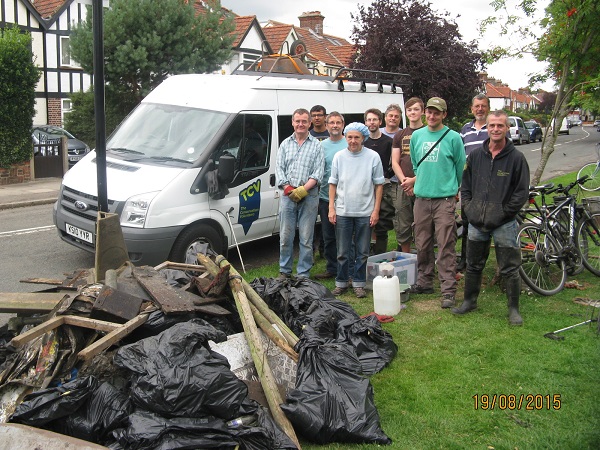 In Hounslow the project will work on the land in public ownership and build upon the successful partnership between the planning and open space departments of Hounslow and Richmond councils alongside local charity and community groups such as Green Corridor, TCV and FORCE, which was initiated through the GLA's Priority Parks project in Crane Park in 2009 and continued through the first Big Green Fund project in 2012. The Isleworth Society, Environment Agency and Thames Water are also important partners in this new project.
Councillor Amrit Mann, Cabinet Member for Environment, Hounslow Council, said: "This project is designed to spruce up this little-known green corridor so that it is free of rubbish that has blown in from the surrounding area or been fly-tipped. It is a very quirky piece of the borough's history and one that deserves to be brought back to life for everyone to enjoy.
"My thanks go to The Conservation volunteers and also to Carillion and Hounslow Highways for their hard work in getting this project underway."
August 27, 2015