Ugo Monye, Shaun Udal, Mayor Corinna Smart and Mary Macleod MP
Licensees Adrianne and Simon Mead opened the doors of the new look Royal Oak in Isleworth last week with a plethora of special guests and local residents coming along to get the pub off to a flying start. The pub reopened after a significant refurbishment, funded jointly by Adrianne and Simon and the pub's owners, Fuller, Smith & Turner PLC.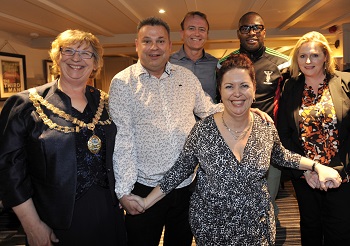 The couple celebrated the pub's reopening with a celebrity turn out and a celebratory atmosphere. Attendees included local Harlequins and England international rugby player Ugo Monye, Hampshire and England Cricketer Shaun Udal, Mayor of Hounslow Cllr Corinna Smart and local MP Mary Macleod.
Fuller's Inns Managing Director Jonathon Swaine said: "The refurbishment at the Royal Oak is just amazing. It looks warm and welcoming and I know it will have a great impact on business. It is important to remember that the people are as large a part of the investment as the money too – and I know that Adrianne and Simon's arrival will have an even bigger impact than the financial investment.
"The pub received admiration and approval from everyone who came along on what turned out, despite the heavy rain, to be a busy opening night.
"While the tenants might be new to The Royal Oak, they are both experienced in the trade. Simon has been running pubs for 20 years, including one in the area of Isleworth, while Adrianne has also spent many years in the licensed retail sector."
Adrianne said: "We are so excited with the new pub and are looking forward to welcoming new and regular customers alike. Our close proximity to Twickenham gives us a great opportunity on rugby days and we hope that many fans will stop by for a pint of local Fuller's beer and a bite to eat on their way to the match. We were delighted to see our rugby credentials recognised when Ugo Monye donated us a signed jersey on behalf of Harlequins.
"As well as great beer and rugby memorabilia, we will also be offering a fantastic selection of foods from local suppliers including bread from Honeycrumbs Bakery and ice cream from South Street Café. We want to make sure that The Royal Oak is at the heart of the local community – so we hope to see all of our neighbours in the very near future."
October 17, 2014