Hounslow Enterprise Club showcases its new businesses
15 members of Hounslow Enterprise Club were very encouraged by the positive response from visitors to their New Business Showcase exhibition on Saturday (24th April). The event, held at the Paul Robeson theatre at Hounslow Library, saw the launch of six businesses whilst others found the event really useful for researching their business idea.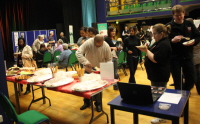 The new businesses launched include www.justsayhi.co.uk a new form of social networking by sight, www.office-admin.net which provides bespoke computer training and administration support for small and micro businesses, www.mrhandymanservices.co.uk a new home maintenance service and Bluebell Cards and Gifts which designs bespoke cards and gifts in any language for any occasion. Catering was provided by East West Cuisines, a new event catering company run by Executive Chef Manoj Malik and by the Bees Cafe, a joint venture between Brentford Football Club and the Docking Station. Visitors were treated to a self defence demonstration by Rod Lloyd of One 2 One Semi Contact Kickboxing club and to Indian Head massage by Ashok Dass. All of the participants overcame their nerves to make a one minute pitch of their business idea and Martin Langley of H2Go Electric used his minute to encourage visitors to back his pitch on www.crowdcube.com. Other exhibitors were researching new ideas for baby sleep bags, for new media design, childcare services, photography and eco cards and for complimentary therapies.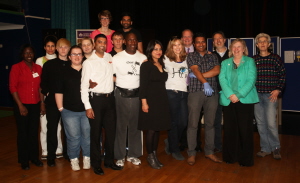 The Enterprise Club aims to help people move from unemployment into self employment. Club facilitator, Glenda Shawley said, 'The New Business Showcase was a real team effort and a great boost to the confidence of Club members who managed to put on a great show on a very limited budget.'
For further information please contact Glenda Shawley on 07710 325505 or Sanda Connolly or John Dunbar on 0845 4562800 or visit the website at www.hounslowenterpriseclub.wordpress.com
May 4, 2012