Peter Carey had represented the people of Osterley since the sixties
The longest serving Councillor in the history of Hounslow borough has passed away this Thursday (31 May) after a period of poor health.
Peter Carey represented the Osterley and Spring Grove ward for the Conservatives before stepping down prior to the recent election.
As a Councillor, Peter served for two terms on the Council, first during the Conservative administration of 1968 to 1971, and more recently from 1986 to now. This means that he was the only Hounslow Councillor to have served in every decade from the 1960s onwards. The ward he represented was initially called Spring Grove, but has more recently been called Osterley and Spring Grove.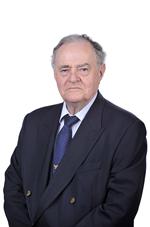 Peter Carey
Hounslow Council has expressed its condolences to his family and friends and the borough flag at the Civic Centre will fly at half-mast over the weekend as a mark of respect.
Council Leader, Steve Curran said, "Peter Carey was a highly respected Member for many years. He specialised in the Council's scrutiny arrangements and was Chair of the Overview and Scrutiny Committee from 2006 to 2010, and a committed member of the scrutiny process thereafter.
"He served on the Council's Licensing Committee, Governor Appointments Panel, and Assessment and Appeals Joint Group, and outside bodies including the Watermans Arts Centre, the Heathrow Airport Consultative Committee and the Department of Trade and Industry's Investigation of Air Pollution Standing Conference. Councillor Carey was made a Freeman of the Borough in 2008.
"On behalf of the whole Council I would like to express my appreciation for his public service, and my condolences to his family and friends."
Councillor Sam Hearn said " "We are all extremely sad to hear of the death of Peter Carey after a long period of ill health. Hounslow has lost a dedicated and highly intelligent servant.
"I was fortunate to have worked with him for the last decade. As a colleague he was helpful, kind and considerate. Yet in meetings he was always the ruthless enemy of humbug, time wasting and self-promotion by officers and fellow councillors of all political persuasions. As Chair of the Overview Scrutiny Committee he set the gold standard for rigorous analysis and independence of thought that few have dared to even try and match.
June 4, 2018