Residents invited to have their say on the upgrades
Plans have been announced to spend two million pounds on three leisure centres within Hounslow later this year.
Fusion Lifestyle, which manages the facilities is embarking on an investment programme, which will see the modernisation of pool and changing facilities at the three centres.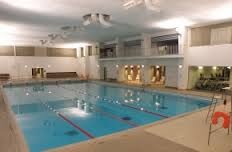 Residents across the borough are being invited to look at the plans which will see major improvement work carried out at three leisure centres, Hanworth Air Park Leisure Centre, Isleworth Leisure Centre and New Chiswick Pool.
Plans are available for residents to view and give feedback on from Monday 18 September for two-weeks in the leisure centres.
The work will also include a major make-over at Hanworth, with plans for a much anticipated splash pad, new starter blocks for competitive swimming, a new tiled surround, plus a new pool lining and pool lane markings in the main pool.
The Flume pool will be fully refurbished and will become a learner pool with increased capacity for swimming lessons and will have special non-slip flooring added in the balcony area. The changing rooms will be redecorated and there will be refurbishment of the floors and shower areas.
At Isleworth Leisure Centre, the Lagoon pool will feature an improved viewing area and will have special windows to ensure privacy for parents, guardians and their children. The ceiling in the pool area will have new lighting, plus updated facilities around the pool area.
At New Chiswick Pool, the hall ceiling and high level structures will be redecorated with the window frames being refurbished. The pool will have new pool lining and pool lane markings, the pool surround and benching will be tiled and the changing room floors and ceilings will be completely refurbished by specialist contractors.
Councillor Samia Chaudhary, Cabinet Member for Green Policy and Leisure, Hounslow Council, said: "At Hounslow Council we are committed to providing opportunities for all our residents to be able to live healthy, active lifestyles and improve their wellbeing and quality of life.
"Investment into the leisure centres across the borough will mean that residents will be able to be supported in taking up an activity, keeping fit and healthy. It also means that more and more people can interact with the community in which they live."
Plans are available for residents to view and give feedback on from Monday 18 September for two-weeks in the leisure centres.
Fusion staff will be available across the leisure centres to discuss the plans.
Residents can also email their views to:
isleworth-feedback@fusion-lifestyle.com
hanworth-feedback@fusion-lifestyle.com
newchiswick-feedback@fusion-lifestyle.com
Anthony Cawley, Operations Director, at Fusion Lifestyle said: "We have made a commitment to nurture these sports and leisure facilities in Hounslow, and this includes making a serious investment in their improvement and upkeep. Our plans for all the centres have been designed to improve the experience for our members and the public, providing them with better facilities.
"It is a privilege to be involved in the running of these incredibly popular and important sites across Hounslow, and it is our role to ensure that they continue to serve the community for years to come, whether that's providing a major new addition to the site, or refurbishing much-loved tired facilities.
"The improvement plans will be on show at each of the centres, and we hope that the public take the opportunity to come and view these; we are excited to hear their thoughts. As an independent charity, we invest heavily in creating, restoring and transforming local facilities, and we believe communities in Hounslow will really benefit from what we are proposing."
For more information about Fusion visit https://www.fusion-lifestyle.com/
September 20, 2017