Residents can elect to share a bin with a neighbour
Thousands of residents will receive news about their new wheelie bin collection service this month.
Around 6,000 households will be sent a letter with details of the easy to use service which has been a hit with more than two-thirds of residents who are already using the bins.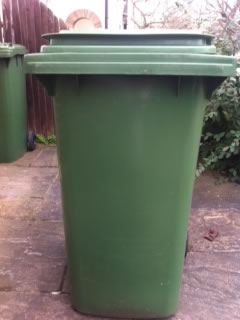 The letters include details about why Hounslow Council has introduced wheelie bins for the collection of household rubbish, as well as frequently asked questions to help residents make the change from bags to bin.
Between November 2015 and February 2016, almost 40,000 properties across the borough will be given a wheelie bin.Residents will be notified in phases.
The Council say that as well as helping to keep the borough's streets clean by preventing bags being split by scavengers such as foxes and rats, wheelie bins encourage residents to recycle more as there is a limit to how much rubbish can fit in the bin.
In the weeks after the bins are delivered, Waste Monitors from the Council will be visiting homes to help manage the change and ensure residents use their bins for household rubbish only, and not recycling.
Bins which are overflowing will not be collected. Any rubbish not in the bin will also be left behind for the next collection day or for residents to take to the Space Waye Reuse and Recycling site in Feltham. All uncollected rubbish will be marked and logged.
Deputy Leader of Hounslow Council, Councillor Amrit Mann, said: "Almost 30,000 homes already receive wheelie bin rubbish collections. The majority of residents are happy with the service and have seen a noticeable improvement in the cleanliness of their street.
"Although we want to ensure every home that can accommodate a wheelie bin does so, we appreciate that wheelie bins are not suitable for every household.

"We have assessed all low rise homes in the borough to ensure we allocate the right service to the right property. All residents – those with and without wheelie bins – will be given the opportunity to appeal our decision. Details on how to do this will be outlined in letters to residents."
Residents who recycle most of their household waste can opt to share a bin with their neighbour if they do not want a bin of their own.
Cllr Mann added: "Recycling is at the heart of our changes to household rubbish collections.
"In 2020, all London councils will be expected to recycle at least 50 per cent of all household waste, or face hefty fines, which, alongside cuts to our budget from central government, we simply cannot afford.
"In Hounslow you can recycle around 70 per cent of household waste. I urge all residents to recycle as much as they can – it's the easiest way to play your part for a cleaner, greener borough."
Around 65,000 tonnes of Hounslow rubbish is sent to landfill every year. It costs £120 to send a one tonne of rubbish to landfill but only £20 to recycle the same.
For more information about the wheelie bin rollout, visit www.hounslow.gov.uk/wheeliebin
You can also email questions to wheeliebin@hounslow.gov.uk or call 020 8583 2189, a special hotline number for wheelie bin queries.
October 16, 2015