Focus of Hounslow in Cannes will be Brentford
Hounslow's director of regeneration, economic development and environment headed off to Cannes on Thursday on a six day cycle ride to MIPIM, the world's biggest regeneration and property conference, as part of the borough's ongoing work to encourage inward investment.
Brendon Walsh, who is also cycling to raise funds for children's charity Coram, said: "I cycled to MIPIM last year. I know just how tough it is going to be, but it's worth the pain for the gain for the charity and of course to make sure Hounslow is the number one regeneration destination in London."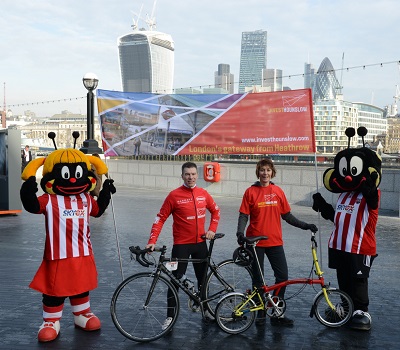 Brendon Walsh, Heather Cheesbrough and BuzzBee and Buzzette
Councillor Colin Ellar, deputy leader of Hounslow Council, who is also going to MIPIM, said: "We are going to MIPIM to showcase Hounslow and promote the prime sites across our borough which are ripe for business development and homes.
Hounslow has a growing reputation as a place to invest in - we are already home to blue chip companies such as BSkyB and Glaxo Smith Kline, we have great schools, a low unemployment rate and we are cutting council tax again this year."
The Hounslow delegation's costs of attending the conference have been covered by sponsorship from the Council's existing regeneration partners.
Brendon will be tweeting updates on his progress of his six-day cycle ride via @investhounslow or @LBofHounslow
Pictures from the launch event are available from the council's Flickr account
March 7, 2014