Councillor Ellar visits Griffin Park to promote recycling
Participate
The amount of people recycling their waste in the borough has increased in the past six months by 46 per cent.
There are over 40 recycling sites around the borough that provide facilities, such as paper and bottle banks, where residents can take their recyclable waste
Brentford Football Club have been keen supporters of Hounslow Council's recycling initiatives and already encourage staff and fans to utilize the receptacles that are located at Griffin Park to help improve or at least maintain a healthy and friendly environment.
Sign up for our free newsletter

Comment on this story on the
Hounslow Council has teamed-up with Brentford FC to remind football fans to save their household waste from Euro2012 parties for recycling bins.
Even more bottles, cans and containers than usual are likely to be recycled during the tournament as people watch the matches at home.
The council's recycling contractor, Sita, collects paper, plastic and glass from people's homes in Hounslow. And fans can also make their old football kits, scarves, goalkeepers' gloves and shin pads available to be collected by recycling collection officers or take them to a nearby clothes bank.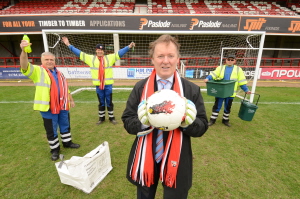 Cllr Colin Ellar, Deputy Leader of the Council and cabinet member for the environment, joined members of the Sita team at Griffin Park to launch the recycling goals for 2012. Thomas Matuszewicz from Poland, Eddie Mallett, Cllr Ellar and Ukrainian Mykhaylo Synovitskyy are pictured left to right.
Cllr Ellar said: "The council will guarantee residents a variety of recycling choices for every England match this summer and let's not waste this opportunity to do our bit.
"A vast city like London produces a vast amount of rubbish and it is proving increasingly costly to dispose of it.
"Recycling is not only cost-effective but improves the place we live in, saves money and improves the environment.
"Recycling has become more and more important as people's awareness of the environment – global and local - has grown."
Brentford FC and the council will also promote the recycling message for Euro2012 on their respective websites.
Peter Gilham, spokesman for the club, said "With the onset of a glorious summer of sport, whether actively supporting or enjoying in the confines of your own home, we fully support this latest campaign to recycle both household and general waste responsibly."
For more information about recycling in the borough, visit www.hounslow.gov.uk/recycling or telephone 020 8583 5555.
May 24, 2012