Raised almost £1,000 for The Shelter Project Hounslow
Local musicians from Hounslow and Ealing have come together to raise nearly £1,000 for a homeless charity.
It was standing room only at Brentford's Musical Museum for an audience who gathered to hear five bands play more than three hours of original music in the very first Hounslow Hootenanny.
The sale of tickets raised £918 for The Shelter Project Hounslow (TSPH), a charity that feeds and houses homeless people during the cold winter months.
TSPH chairman Jennifer Corbin said: "We are very grateful - the money will help fund our 11 night shelters in Hounslow this year plus the staff who work to house our guests permanently."
The Hounslow Hootenanny was the brainchild of two local musicians – Edwin Addis and Julian Joyce – who wanted to highlight local talent and raise money for a good cause. -
Julian Joyce, who played with two of the bands on the bill, said: "Ed and I wanted to push the fact that our local musicians are writing great original songs.
"I think the audience appreciated the range of talent on the night and our feedback so far has been amazing!"
Edwin Addis said: "I fell in love with the Musical Museum because it is purpose-built for live music, and also because of its approachable and supportive staff who gave us a discount on the venue hire."
The bands on the night all played for free and included Edwin's seven-piece outfit Trade Only, punk-blues band The Howdo, the soul-influenced Blue Eyed Souls and the rock/blues combo Jam Junkies.
Ealing blues trio Born of the Sun was a late addition to the evening and was chosen by the organisers as the Hootenanny's last-minute "mystery band".
Local Hootenanny sponsors included Honslow Council, who donated £500 from the community grant programme, the Catalyst Residents Federation and Brentford-based Quilliams Property Services. The even also received valuable on-air coverage from Radio Jackie.
Julian Joyce said: "Our sponsors were amazing. Thanks to them we were able to donate all the ticket money to charity, and our community radio station gave us great publicity.
"The whole thing was a real success, and Ed and I are already talking about doing it all again next year."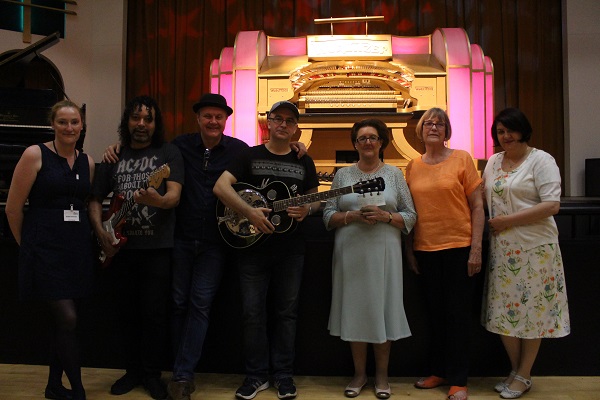 Noeleen O'Gorman from the Musical Museum, Paul Date (Jam Junkies), Julian Joyce and Edwin Addis (Hootenanny organisers), Jennifer Corbin, Janet Hart (Catalyst Residents Federation), Amilia Addis

August 3, 2016