Ballymore refuse to meet with Mary Macleod before key decision
Local MP has expressed disappointment with developer Ballymore over their refusal to meet with her to hear residents' concerns about their scheme. The plans are due to be considered by the Council's planning committee this Thursday (27th November).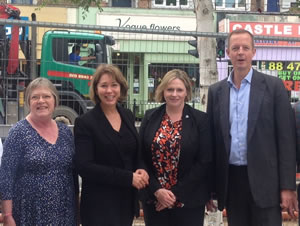 Sheila O'Reilly, Councillor for Osterley and Spring Grove, Julia Quilliam, independent Estate Agent, Mary Macleod MP, Nick Boles MP, Minister of State
The developer of the major waterside project declined her request saying that the scheme enjoyed considerable support and they had already done a sufficient amount of consultation.
A spokesperson for Ballymore told the MP, "Given the significant level of public consultation that has occurred on this project to date and the considerable level of public support in favour of the scheme we do not consider it appropriate for our company to re-engage in further public debate at this late stage in the planning process…"
Ms Macleod, who welcomes the redevelopment of the Brentford High Street wanted to use the opportunity to meet with Ballymore to represent local residents and groups, including the Brentford High Street Steering Group, who had written with questions and concerns about the project.
She said, "I am disappointed that Ballymore has refused to meet me and local people so I can bring to their attention the concerns some residents have with the plans. There are many unanswered questions, which residents have spoken to me about."
She encouraged everyone who wants to have their points of view heard to attend the Planning Committee Meeting on at 7:30pm Thursday 27th November in The Lampton Park Conference Centre at the Civic Centre.
In the meantime, Ms Macleod said she will continue to push for a meeting with the developers so that residents' concerns are represented at the highest level adding, "This is our one chance to make Brentford brilliant – so residents should truly be at the heart of decision making."

November 26, 2014