Hounslow Manor wins opportunity to start a business in Brentford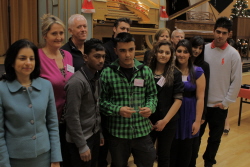 The winning team and 'dragons'
"'View It' (launch name to be confirmed) will offer our customers a new entertainment space with the latest DVD, games and music releases, as well as past popular entertainment. The store will also offer food and drink to enjoy along with the entertainment.
"What makes 'View It' different to Blockbuster & HMV? The experience we create will be unique; we will provide something that other stores do not. Firstly we will have a lounge area available to customers (with a small fee) to play the latest releases of games before purchasing. Secondly we will encourage upcoming artists from Brentford and across Hounslow/ West London to sell their music through the store. Gaming activities will be inter-generational, meeting the needs of specific and mixed groups at different times of day."
This is the brief description of Brentford's new business, to be launched next year by Hounslow Education Business Charity employing young people that are currently unemployed in Hounslow on traineeships.
Cllr Ruth Cadbury, Deputy Leader of the Council commented
"I was so impressed with the level of thought that had gone into all the bids, the research they had done, and the wide range of issues they had addressed in putting their bid together. It's really good to know that an otherwise empty shop in the heart of the High Street is going to be opened selling games and music, a service which is lacking at present, as well as providing good quality employment and training to a group of young people".
December 6, 2010