Structure would be for cycle and foot traffic only after plan for car bridge rejected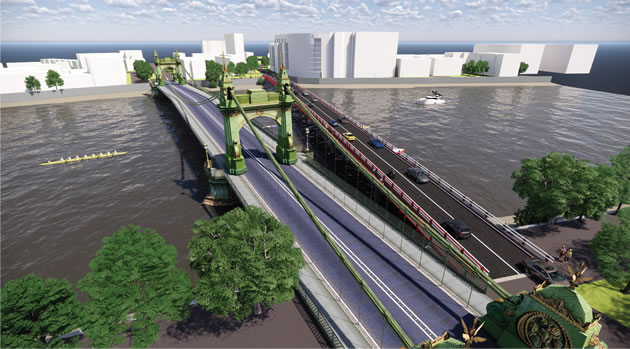 The rejected proposal for a bridge taking motor traffic. Picture: Beckett Rankine
A consultation is to be held on whether a temporary cycle and pedestrian bridge should be built next to Hammersmith Bridge. It has been decided that this may be necessary because the current access allowed to foot and cycle traffic on the existing bridge is limiting the pace at which restoration can be done.
Transport for London (TfL) are proposing a seven metre wide pre-fabricated steel structure supported by two piers on the river. It would be a step free bridge with a two-way carriage way of 5.5 metres.
Access to the bridge would be by ramps from Queen Caroline Street from the north and close to the junction of Castelnau and Riverview Gardens from the South.
An application will be made to both Hammersmith & Fulham Council and Richmond which are the joint planning authorities for the bridge. It is expected that it will be submitted next month.
More details about the temporary bridge proposal and a feedback form will be available on this page from 14 March.
They will also be hosting public drop-in exhibitions where residents can come and find out more about the proposals:
Saturday 14 March 2020, 11.00 to 15.00, Riverside Studios, Hammersmith W6 9BN
Tuesday 17 March 2020, 18.00 to 21.00, Castelnau Community Centre, Barnes, SW13 9AQ.
Thursday 19 March 2020, 16.00 to 20.00, Riverside Studios, Hammersmith W6 9BN
Saturday 21 March 2020, 13.00 to 17.00, St Michael & All Angels, Barnes SW13 0NX
Feedback must be sent by 22 March either through the form or by emailing HammersmithBridge@tfl.gov.uk.
TfL have rejected plans by architects Beckett Rankine for a temporary bridge that would have taken lighter motor vehicles including cars. They regarded the proposal as unfeasible and both Hammersmith & Fulham and Richmond Councils have concurred with this view.
The bridge will be closing to foot and cycle traffic this month and spectators will not be able to use it as a vantage point for the University Boat Race on 29 March. TfL say that the bridge will not be closed permanently to non-motor traffic until the temporary bridge is opened.
Tony Devenish, London Assembly Member for the area said, "With pedestrians and cyclists unable to use the bridge at the end of the month, there can be little doubt that this situation is getting worse, not better. This development will not only come as a massive disappointment to all those who were looking forward to watching the Boat Race, it will also raise concerns about the future of our bridge. Londoners will understandably start to question whether the complete closure of Hammersmith Bridge is set to become a regular occurrence".
TfL say they have applied to central government for funding for the bridge and that, in the meantime, £25 million has been allocated to the project for preparatory and investigatory works as well as the temporary bridge. They were unable to say at this point how long it might take to build the temporary bridge and how much it would cost.
March 6, 2020