Public Consultation to happen in the summer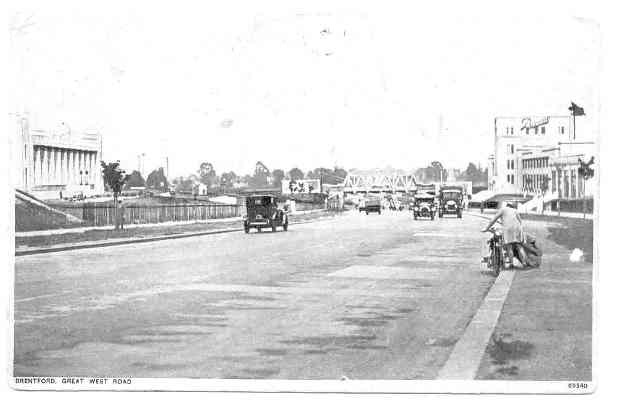 Great West Road, courtesy BHSProject
Thursday night saw a small group of representatives of local community groups attend a pre-consultation meeting about the Great West Corridor (GWC). A similar meeting took place the previous week where councillors, businesses, landowners and developers looked at the future of the Great West Road.
A full public consultation will be launched this summer about the future of the A4 as part of policy improvements to Hounslow's Local Plan as recommended by the Planning Inspector. Latest documentation from last year's review is available online.
The London Plan, which is currently being reviewed, identifies the GWC as a "future Opportunity Area" (para A1.4 Annex 1) which means it has "significant capacity to accommodate new housing, commercial and other development linked to existing or potential improvements to public transport accessibility".
Urban Iniatives Studio presented the Great West Corridor, reminding attendees of the location, setting, history and current issues. The information presented and summarised below is DRAFT and may change before the formal consultation.
At the previous stage of development of the GWC plan the entirety of Brentford was included. The proposed boundaries are much narrower, stretching from the Nishkam School to the Power Road Business Estate and bounded to the south by the railway line. All references to K** Gate have been dropped and replaced by Brentford East. Some 2000 homes will need to be incorporated within the plan.
Great West Road has
iconic landmark art deco buildings
Sky with 18000 employees
wide mix of businesses from international headquarters down to small offices
heavy vehicular traffic, including related noise and pollution
poor pedestrian access (along and across)
poor public transport
advertisements, mostly aimed at the M4 as the gateway into London
car showrooms
nearby parks and schools
high density residential
a lack of small amenities (corner shops, cafes, social hubs)
"prior approval" applications to transform offices into residential
The viability of a new rail link between Southall and a new station at Transport Avenue is currently being assessed. As part of this work, the potential for the extension of this line to Brentford is also being examined. The longer term plan also includes extending the Overground from Hounslow to Old Oak Common and inclusion of the provision of a new station adjacent to Lionel Road.

The principal objective is "to transform the Golden Mile into a 21st Century Business Hub". Supporting objectives to achieve this are to:
build on existing big business presence
reduce dependency on cars
provide mix of uses
celebrate "gateway to London"
improve the public realm with a "Great West Boulevard"
better integrate with surrounding areas
The Great West Corridor was divided into opportunity areas with different focii which include:
West Cross campus to become Chiswick Park 2.0
"Makers Village" - light industrial across the road from West Cross
"Brent River Quarter" - residential straddling the canal either fronted by commercial or on top of
corner with Boston Manor Road to be intensified with offices
Showcase - stretch of car rooms works well for the area and is happening naturally
further residential opportunity around the Lionel Road development and Capital Interchange Way extending across B&Q site
office park in front of Gunnersbury park
Power Road Creative Quarter
five "activity hubs" along the A4 where natural footfall occurs and shops and amenities should be developed
Those present divided up and brought up issues to be considered in the development of the Great West Road and the impact on the surrounding neighbourhoods. The list below is by no means exhaustive:
traffic bottle-necks at Chiswick Roundabout and Kew Bridge
traffic along A4 (including the increasing cumulative impact as developments in the borough happen; growth of Heathrow)
improvements to Gunnersbury station (which is still waiting for pedestrian bridge to Chiswick Park)
improved buses along A4 and up to stations; shuttle buses along A4
improved cycle routes and superhighway
improve access routes between all stations and A4
should residential on the A4 be allowed due to air quality (which is worse on ground)
risk of isolation in some locations (both for staff and residents) if access not improved
how to improve the landscape of the A4; trees, planting, pavements
design code for new buildings needed to emulate the quality, grandeur and landscaping of the art deco buildings
need to improve the A4 under the M4 flyover for pedestrians and cyclists
crossings and access from stations
existing green space such as Carville Hall Park, Boston Manor and Gunnersbury will not be lost or diminished
building heights were not discussed
activity hubs are at junctions where pollution is worse
no evidence on danger of ads to traffic and therefore very difficult to stop
will East Brentford have access to secondary schools
precise boundary of the Great West Corridor
impact on views from Kew Gardens and Gunnersbury Park
facilities on A4 detract from town centre of Brentford
The meeting provided a good opportunity for views to be expressed and hopefully included before the Great West Corridor policy is finalised for consultation. At least one public meeting was agreed to present the policy to the public.
March 19, 2017