As they announce their part in Carrying Out Anti-doping services
British Olympic Gold medallist Rebecca Romero this week unveiled the biggest 2012 logo on the side of GSK's headquarters in London.
The sign, which is 41m wide, sits on the side of GSK's building next to the M4 and A4 in Brentford, and will welcome millions of people to London as they travel into the capital from Heathrow and the West of England.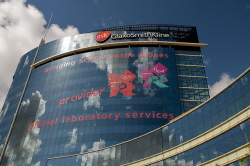 It measures the breadth of five London Routemaster buses and will be visible from miles around. More than 78,000 people will see the sign every day from their cars as they drive in and out of London – that's more than 0.5 million a week, two million a month and up to 26 million in the year leading up to the Games.
GSK Chief Executive, Andrew Witty, said: "We are immensely proud to be a partner of the London 2012 Olympic and Paralympic Games and want to celebrate the role we will play in bringing science to the Games. The sign is the perfect way of doing this as millions of people will see it in the lead up to the Games and during Games time itself. As the UK's largest pharmaceutical company, we will bring our expertise to running a world class laboratory that will carry out more anti-doping tests than ever before at an Olympics, making London 2012 the cleanest possible Games."
Team GB cyclist, Rebecca Romero, said: "It is a pleasure to unveil a sign that celebrates the contribution that science will make to London 2012 through ensuring it is the cleanest Games possible.
September 9, 2011