Treat yourself at The Griffin with a superb meal
Entering The Griffin on a Wednesday evening sees more people than usual surrounding the bar as the tables are all laid out for dinner.
Increasingly Gerhard and Claire's Wednesday Supper Club needs booking up in advance as its reputation spreads. On Wednesday evenings a 2 or 3 course meal is offered, at the staggering good value of £15.95 for 2 courses and £18.95 for 3, with some optional supplements. The menu changes every week depending on mood and season. There is a regular good offering of seafood and game
Starters are a choice of two. This week's was Seared Brixham scallops with black pudding, cauliflower & pea shoots or Chargrilled asparagus & bay gem salad with soft boiled hen egg & anchovies, which is what I shared with my companion. The asparagus (six spears) was soft and crunchy and the accompanying garnish woke up your taste buds.
The main course is a choice of two with a permanent third option of a 8oz sirloin steak (£5 extra) or a surf and turf with giant king prawns on top (£10). This comes with double cooked chips, corn on the cob and garlic butter. Meat comes from Macken Brothers. The steak is always a good thick cut (one pictured is a good inch thick) with taste and juices. Chips are salty. There is more than enough garlic butter.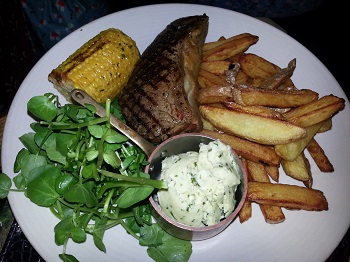 This week's choices were Linguine vongole - linguine pasta with clams in a white wine, chilli and parsley broth which seemed to down well, with a good number of empty clamshells the only thing left on plates. I had roasted duck breast with boulangere potatoes, cabbage & curly kale. I can normally skip kale but this was tasty. It's a testament to the cooking that I will eat foods here I wouldn't bother with anywhere else. The duck breast was thick sliced which made it more meaty and enjoyable than the normal delicate slivers you get. Even the often dull white cabbage was enlivened with herbs and juices.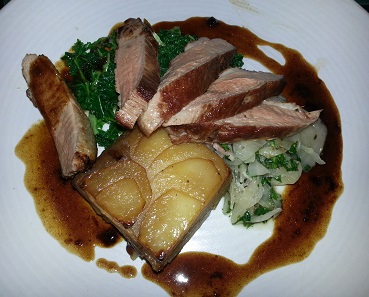 To follow is a large selection of cheeses, normally about 5, served with grapes and chutney (£3 extra). This week's offer for pudding was a chocolate and Guiness cake with vanilla ice cream that was substantial enough to be a meal in itself. It tasted chocolatey with a hint of Guinness (now there's a surprise!).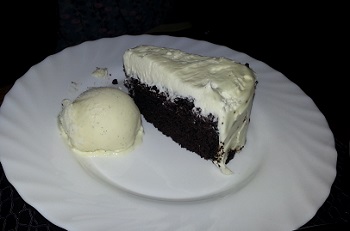 Home made sorbets - lemon, passionfruit or mango; a scoop of each or a choice. The lemon sorbet is perfect: just the right mix of tanginess with a hint of sweet and very lemony, a combination that is rarer than it sounds. I seek out lemon sorbet whenever it's on offer and this is the one. The mango is also very good, but much sweeter.
Attention to detail is one of Gerhard's characteristics: the drizzle of salad dressing that lifts any lettuce leaf; the combination of tastes and textures within a dish as well as the presentation. You can see and taste the imagination; this is not pub grub.
My only criticism, and it's a serious one, is that the food is served in hefty portions and you're very likely, especially after 3 courses, to waddle out the door. Self-restraint is needed.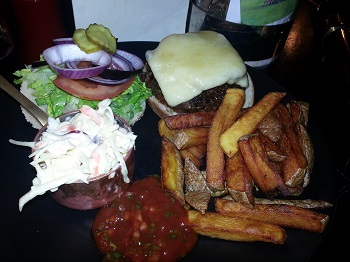 Unless there's a football match, Tuesday nights sees a selection of burgers including a well-received veggie. Burgers are cooked on request to whatever shade of pink you'd like and are full of tasty juices. "Best burger ever" is a phrase commonly heard on Tuesday evenings.
Sundays sees a selection of roasts with all the trimmings. It's not the cheapest but you won't find better. A more normal pub grub is on offer at lunchtimes that includes good thick soups.
You can subscribe to a weekly newsletter with Supper club menu and other activities. If you don't consider yourself a pub goer, try it out. Regulars and newcomers alike are given a warm welcome and are well looked after.
I must add of course, that The Griffin is my local. This doesn't mean my review is biased, just that I've got incredibly good taste.
Kath Richardson
March 26, 2015