Baroness Jenny Jones visits Brentford in support of Diane Scott
Jenny Jones, Baroness Jones of Moulsecoomb and London Assembly Member visited Brentford las week to support Green Party candidate Diane Scott in her campaign to become West London's first Green councillor. Jones and Scott installed an air monitor to measure air quality and visited the Brent Lea Recreation Grounds and met local activists.
In the same day the Davies Commission has published their airport expansion recommendations for Heathrow Jones commented: "expansion will be a disaster for London, Brentford and Hounslow will suffer the biggest burden when Heathrow expands. Expect noise, increased traffic, health problems and added air pollution".
Candidate Diane Scott added: "We cannot allow Heathrow to expand, and shame on Labour for their U-turn. We, the Green Party, will work with local organisations and residents to oppose expansion. I am very concerned at decisions taken only in the interest of business and profit that disregard the consequences of this expansion on thousands of people in West London and Brentford in particular. Hounslow may well become the capital of respiratory disease in Britain as a result of high levels of air pollution".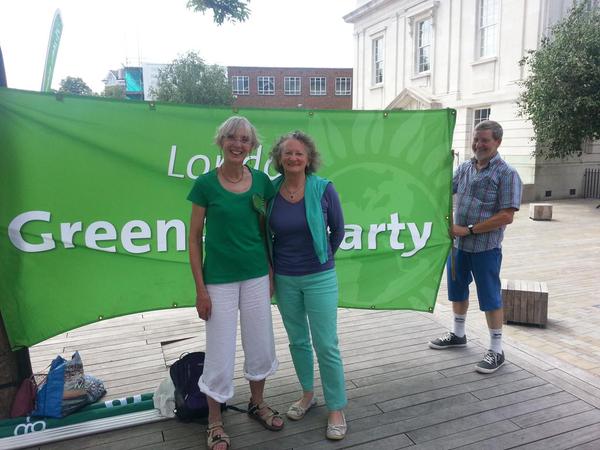 Baroness Jenny Jones with Diana Scott (Photo @HounslowGreens)
Scott, together with Green Party member and Brentford local resident, Victoria George applied for funding to install air quality monitors around the Brentford ward and yesterday all 32 have been set up. This is part of a network of monitors across London which has been organised by 'Mapping for Change, a citizens' science project based at University College London. It will provide up to date data for future decisions on actions to take to tackle air quality.
October 8, 2015