Hosted by Brentford School for Girls who placed third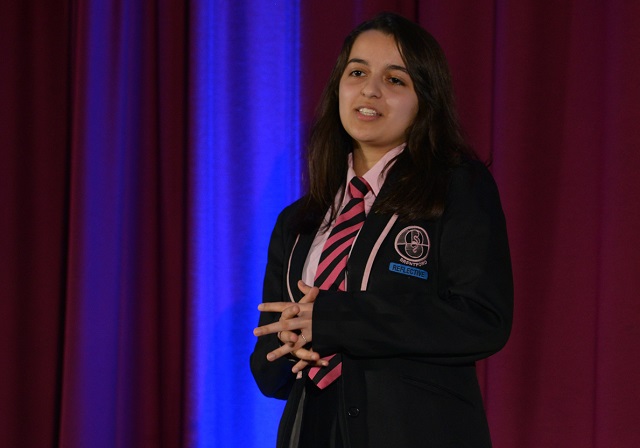 This year's Jack Petchey Speak Out Challenge Regional Final was hosted by Brentford School for Girls. Schools from across Hounslow borough were represented by students who competed for a chance to speak in a London theatre at the National Final.
Each speaker wowed the audience and esteemed judging panel with engaging speeches on a topic of their choice. Brentford School for Girls Sabah Halimi spoke eloquently about how mothers should be cherished, the school's second speaker, Nira Hussain, achieved third place speaking about how laziness can actually lead to smarter choices and innovation.
All of the speakers should be very proud of their efforts, as it took amazing confidence and bravery to speak in front of a full audience and an intimidating calibre of judges, such as Local Councillor Candice Atterton, Sir Sherard Cowper-Coles and BBC News Journalist Riaz Jurgon.
The evening was thoroughly enjoyable, especially due to the fabulous entertainment provided by Brentford School for Girls students. The singing talent was breath-taking, Nira Hussain even managed to perform a piece on the piano following her speech, and the wonderfully talented Ashley De Guzman who is in Year 9 at Brentford School for Girls is even being considered to perform in the Grand Final at a London theatre. It was a night to remember.

Many thanks to the Jack Petchey Speak Out organisation for supporting students across the borough, helping them to develop their speaking and presentation skills. The students all thoroughly enjoyed the event and feel more confident to 'Speak Out' publicly about what is important to them.
1st place went to Kavi Noonnan from The Heathland School
2nd place went to Hannah Nivan from The Green School for Girls
3rd place went to Nira Hussain from Brentford School for Girls
Videos of the speeches can be seen on the Speak Out Challenge site.
March 9, 2017