Hounslow Connexions Team are available with advice for students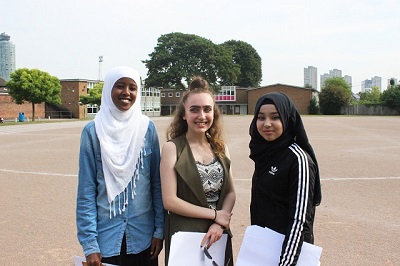 Brentford School for Girls announce that they are delighted with another set of very strong GCSE results and are very proud of students' achievements as the GCSE examinations become more challenging nationally.
Of particular mention are a few of the highest performers.
Special congratulations go to who all achieved a large number of A* and A grades:
Chloe Hooper
Michelle Yang
Sophia Luouis
Hadjar Maache
Zoe O Logbon

Congratulations to all of the students in Year 11 at Brentford School for Girls; the staff are looking forward to welcoming them all back into our thriving sixth form in September.

Hounslow borough was ranked 8th nationally of 152 local authorities in 2015, with 35% of students achieving in all five subjects against a national average of 24%.

With a further increase to 39% in 2016, Hounslow's position looks set to be even more impressive.

In English and Maths Hounslow students have bucked the national trend with 70% of them achieving A*-C in both core subjects - up 3% on 2015. This is 11% above the 2015 national average.

For those students who, having got their results, are now unsure about what to do next, the Hounslow 14-19 Connexions Team are available to provide free impartial advice and guidance on the range of options available. Students can drop in without an appointment at the times below.

The Attic - Hounslow Library
Treaty Centre
High Street, Hounslow
TW3 1ES
Opening times in August and September
Monday*/Wednesday/Thursday each week
1.30pm - 5pm
*Closed on Monday 29th August (Bank Holiday)
Open on Tuesday 30th August instead

For more information, visit http://www.hounslow.gov.uk/connexions
or call 020 8583 5151
August 26, 2016